This might be the longest I've spent spinning any amount of fiber. Since I spend most of my free time cranking out projects I cannot blog about, I'm only granting myself about 1 hour of spinning for every 8 hours of knitting work. That one hour includes all pre-drafting, bobbin changing and other spinning related activities involved in producing yarn.
The lack of time is no lack of devotion, though, and I'm so pleased with the outcome. The fiber is a merino/viscose blend in colorway, Autumn, dyed by Chameleon Colorworks. The end result is about 425 yards of sock weight, 2-ply yarn. It's definitely got some thick and thin areas but I think it may be my most lovely yarn to date.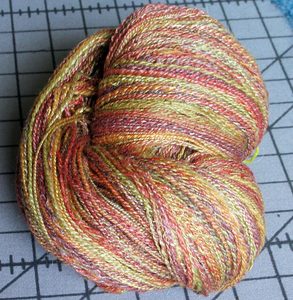 My blocking board is in the one spot in the house getting sufficient enough natural light to allow pictures without a flash.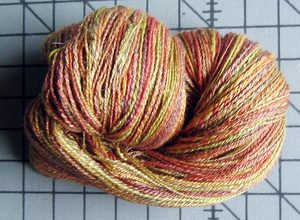 While I was spinning the fibers, I was thinking that I didn't c are for the green as much as the other colors. But spun up, the colors come together in a beautiful way. Even though the green plays very heavily, the effect of the yarn, as a whole, is more orange-brown.
Using a good drive band made a big difference in the final product.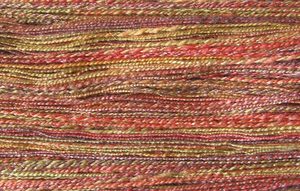 I was getting a lot of yardage with pretty thick looking yarn and I realized a lot of that had to do with my yarn being a bit underspun...or maybe a LOT underspun. It would result in a very soft and light yarn but one that looked a little sad and limp. This was my first yarn spun using one of those synthetic drive bands and the results please me to no end.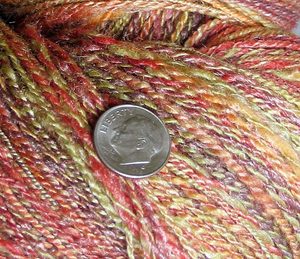 The good drive band gave me much more control over the wheel. It seems obvious, but it's another "well duh!" moment for me. Before, I was using a mercerized cotton and I sometimes couldn't get the wheel to spin at all if I had the break on too high, and even when I kept the brake rather slack, it'd still spin the fibers too little and the yarn would break a lot.
Another lesson learned.