Dear Brad,
I know that I've been on TV and I'm an engaging knitting personality, but we've never met, you simply cannot be stalking me around the world; kids and "wife" in tow. It's unseemly and I am in a happy relationship. I thought I'd put enough distance between us when I moved from LA to Portland, but that clearly wasn't enough, and now you are here, in Pune, the same town in which I am staying. I'm sorry to let you down, but don't worry, you seem like a nice person, I'm sure that in time, you will recover and be stronger for the experience.
Your's truly,
~m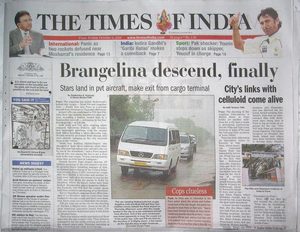 No, I haven't run into them, they are a bit more stealth than that.
It's my last day in Pune and I'm marveling at how fast the two weeks seem to have gone. Everyone here, without exception, has been gracious and kind and made me feel welcome, despite the fact that there was much to do and plenty of work related pressure. But you know, I'm not sure I have much to complain about, work wise. It could be worse, I could have this job.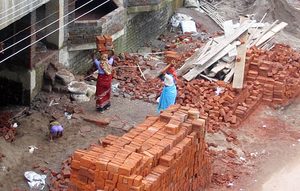 I'm not sure this position would pass OSHA's standards, but they do appear to be an Equal Opportunity Employer.
For my last little shopping excursion, yesterday, we went to the local market. The place was a mob scene, pure chaos and I loved it. The shops are tiny, with little room to move and one must dodge bikes, cars, scraggly looking cats and other obstacles, to enter the shop of choice, but if you want it, you can find it here. I even found yarn. Oh man, you have no idea how affordable yarn is out here. More on that later, for now, here are some pictures of our excursion.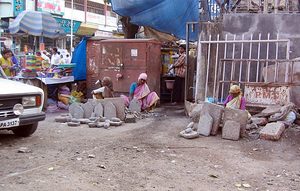 Women carving stones into mortar and pestle and, I don't know, head stones?
Perhaps useful considering the risk to life and limb one takes, crossing the street.
The holiday, Diwali is just around the corner here in India and everyone is getting prepared. People buy vivid new outfits and colorful decorations in preparation for the Festival Of Lights. The markets are filled with items of every sort, in anticipation.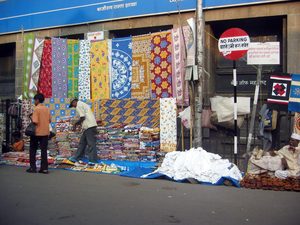 There's almost so much to look at, one can't decide where to start.
Flowers play heavily in the decorations, especially yellow and orange carnations.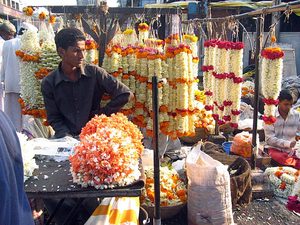 I was able to find a last few items before packing my things and then we made our way back to our hotels for dinner. On the way, we encountered one of your everyday traffic obstructions.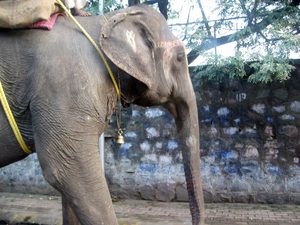 If I were a bit more brave (read: stupid) I could have reached out my window and touched him.
In less than 24 hours, I'll be on a plane home and back to my sweeties. Speaking of which, you'll have to read Leo's response to some of your comments about his tattoo.