I never cease to be amazed at how very spinable the Cotswold is that I bought from Nistock Farms. Cotswold is not a very soft fiber. It's certainly not as rough as some wools, but I wouldn't make a bikini out of it, that's for sure. But there's something about it that really appeals to me. It's got a soft halo with just a bit of sheen and the way they dyed it (the color way is called, Autumn Spice) is simply spectacular. I love this yarn. Spinability wise, I think it bears a bit of resemblance to the A type Pygora, though, of course, the Pygora is much softer.
Much like Julia felt while spinning her first skein on her gorgeous Rose, I wasn't so sure this skein would live up to my expectations. It seemed a little flat and blah and perhaps a bit too thick and thin, while plying up. Then when Laura (alas, no blog) pointed out that in my complete newbie haze I'd used my bobbin backwards, I though for sure I'd blown it. But beginners luck shined down upon me and this is what I pulled off the niddy noddy.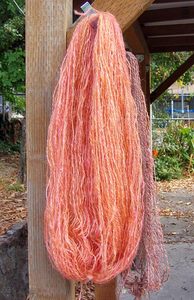 I don't know if it counts as "balanced" since it doesn't twist as a whole, but it does have little kinky bits in there. I would guess it'd be considered unbalanced in its constituent parts yet oddly balanced overall. But man, this is 152 yards of lofty goodness. At this unwashed state, it is just a big poof of orange yumminess. Do you see that other mini skein in back? That's the leftover Cotswold and the leftover BFL/Alpaca, plied together to clear off the two bobbins. There was more of the brown than the orange, so after I exhausted the Cotswold, I Andean plied the remaining BFL/Alpaca into the same skein. It's a pretty unattractive little skein but I just couldn't bring myself to simply toss the leftovers.
The big skein though? She is one sexy mama. I'll let the images do the talking. Just try not to love these.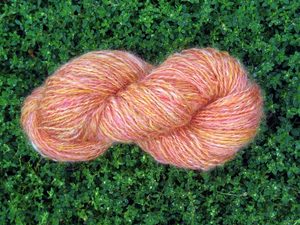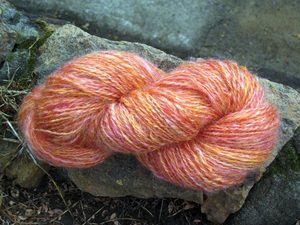 Thank goodness I have an extensive stock of unspun fiber right now because if I didn't I'd be buying up a whole bunch more of this roving.