Every time I pull a new skein of wheel spun off my niddy noddy, I'm inspired anew to crack open my stash of roving and see how the next fiber will work up. This time, I pulled out my supply of Red Maple Merino, one of the Almost Solid Series fibers that Amy offers. It took me a few yards before I really started to get the feel for the merino. It's a more challenging fiber for me to control than some of the others I've spun lately, but I think the practice paid off. This stuff is sproingy, soft and airy. I'm spinning it a little thick and not too tightly (I hope) in an attempt to maintain it's great innate qualities.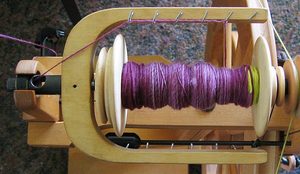 During my lunch break, I often eat a quick bite before sitting down to spin a bit. Monday was no exception. As I did so, Spongebob playing on the tube and Panda sitting beside me (try to top THAT for a lunch break), Leo stopped and watched me for a moment. I look up and our eyes meet. He smiles and says "Can I try?"
Well, short of offering to do all the housework forever onward, there are few things he could have said that would have filled me with more joy. So hurtling over pre-drafted yarn, a sleeping pup, and nearly crashing into the coffee table in my excitement, I ushered him over to El Matchador. We practiced starting up and maintaining the speed of the wheel with the treadle and then I reattached the unspun fiber to the yarn on the bobbin and held his hands while we drafted together. After a bit, I left him to try it on his own, offering advice when he asked.
Let's be honest, though, I am probably not the person to be teaching anyone to wheel spin right now. After a few minutes, Leo gave up in frustration. I removed his yarn from the bobbin and piled it carefully next to El Matchador and started back to my own spinning.
Later, he picks the small pile of yarn up off the table and begins to straighten it out and untwisting it. "How will you salvage this?" He asks innocently.
"I don't plan to salvage it, I love it," I say as I snatch it from his hands before the fibers are completely set loose. "It's sentimental now."
He smiles and walks off and I go into the kitchen to do the dishes. And then he realizes the implications of what I've said. From behind me, I hear "You're going to BLOG about this aren't you?"
I don't meet his gaze.
"I won't if you don't want me to."
Silence
He kisses my neck, gives me a little hug and says, "go ahead."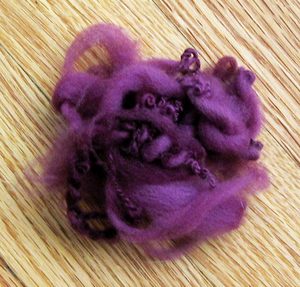 He's a keeper.