So, the second N2JW has been progressing at a speed that would make most glaciers honk in frustration at my pace. I mean, this baby has been taking forever.
At Blogher, I knew nobody. This is not like Stitches was. I traveled with my mother, and met a great deal of friends while there. Further, in the world of knit bloggers, I'm like a C list star. I ain't no Yarn Harlot, but people have stumbled upon me on occasion. For comparison's sake, I'd put myself at about a Carrot Top. At Blogher, I had my normal anonymity, which is fine, but it does mean that I have to make the horrifying step of socializing without any safety net. Let me see if I can find a good knitting analogy here. That would be like my saying that I was going to use the most slippery needles on earth, and knit a complex lace shawl with 600 stitches per row, in mohair, with no life line. And if that doesn't scare you, I would ask you to shoosh, because I don't want to hear it.
So how does an introvert of my neurotic level adapt? She knits. She knits like a fiend and the results; a finished pair of N2JW socks done lickity split. In fact, I was so sad to be done, I toyed with the idea of knitting a third sock, because the only other knitting project I brought is too complex to allow me to knit while paying attention to things around me.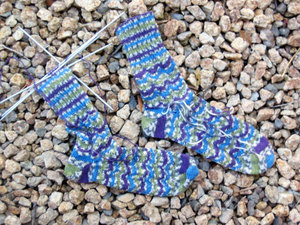 But Blogher was great. If my battery in my camera hadn't been dead (duh) I would have pictures to prove it. The panel on which I was asked to speak was called "Is the next Martha Stewart a blogger?" and was moderated by Maggie Mason. If you ever meet her, please, stop her and beg her for insight. She did a brilliant job moderating and imparted so much level headed wisdom and kindness. I feel like she could done the panel solo and would not have left a single question unanswered.
My fellow panelists were (in alphabetical order for lack of a better option):
Andrea Scher: Despite her proclamation that she was nervous, Andrea brought a warmth and spirit to the group. She lives by the motto that things should be "Fun and Easy" which are words to live by if ever there were any. Hearing about how she came to an understanding that she needed help with her business and how it really liberated her to do what was most satisfying for her, was wonderful. I think we can all take a page from her book, there.
Gayla Trail: A true perfectionist, Gayla really drove home how important it was to impart your own values in what you do. No aspect of her business is done halfway and she gives a great deal of thought to everything she associates herself with. I really respect her sense of principal and dedication.
Pim Techamuanvivit: Like a sparkly ray of sunshine. Her enthusiasm is absolutely contagious. She seemed to have a little slice of experience in every bit of media and an air of confidence to pull it all together. She offered wonderful pearls of wisdom for expanding one's reach and did it all with a beaming smile.
I felt like a girl among women on the panel but wouldn't trade the experience for anything.
Next post: pattern notes for N2JWs.