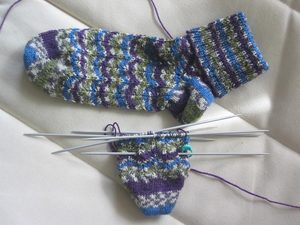 Since returning from India, I've done way too little knitting, mostly because I've been sick. But I'm finally feeling almost 100% better, except for a nagging cough, and my little Nods to Jaywalker are the project at hand.
You can see the finished one hanging out next to the freshly started one. Don't they look cute?
I think I'm going to need a break from both self striping yarn and socks after this pair is done. Knitting the second sock is a bit of a drag, but I'm I think the end result will be cute enough to be worthy of finishing them.
The yarn is Lang Jawoll which I like to think of as Ja Rule's much cooler, crafty sister. It is wonderful, soft and durable, and vividly printed. I expect to get almost a full pair of socks out of a single 50 gram skein.