Well, I can't show you everything I got because much of it is gifts for people who read this blog. No need to give them a sneak preview. But I can show you a few things I acquired for me.
These books were gifts from the hosts. I haven't had a chance to crack them open but I'm looking forward to it.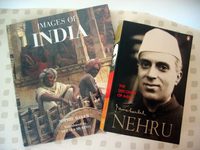 But books, smooks, you want to see the fabric, don't you?
I bought myself 2.5-4 yards of each and they are all silk.
This is a gorgeous iridescent green and purple fabric.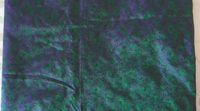 I should stop right now and explain that I have no idea what any of these will be used for. I think this one would make a great lining for some hand knit or crocheted purses, but who knows what it will actually become.
This is some light light sage green raw silk. The color is very hard to capture, trust me, it's a lovely shade.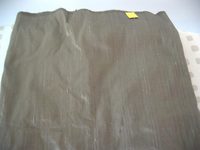 This stuff was so cheap, I'm embarrassed to say how much I spent on it. I have 4 meters of it and I think it's about a 48" width. I think it'd make a beautiful structured mandarin collar jacket with princess seams, but, again, I reserve the right to completely change my mind about that.
These next two fabrics were a little pricier but so beautiful, they make my heart skip a beat.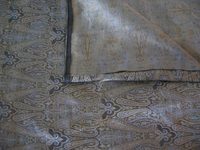 I think I might like to turn one into a gored skirt maybe with some black chiffon insets or with some contrast piping. Did any of you even know that I know how to sew? Well, I do, though I'm not incredibly good at it. I have more vision than skill, that's for sure.
And yes, I did buy a sari.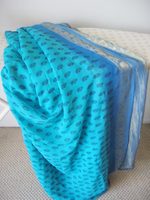 No, I'm not going to model it for you. Not yet, at least. I think I've figured out how to do the standard drape, but it's pretty crude, sort of the equivalent to one's first fun fur scarf, if you know what I mean.
Finally, I bought shawl/wrap type things. The first two are a very soft wool. If I recall they are pashmina but not of the super fab variety. Both are reversible, in the way that double knit is reversible. The dominant color within a section of the weaving becomes the secondary color in the same section on the back.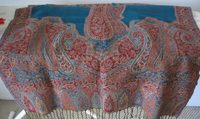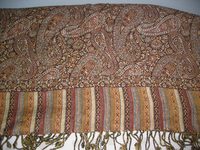 The last one here is silk and hand dyed. They use a tie dye type process and the result is a light and crinkly silk scarf that is surprisingly warm when needed.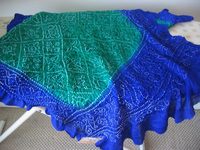 All three are about 2-3 feet wide and at least 6 feet long so they are perfect for casually throwing about the shoulders when there is a little chill in the air, but the fold up small enough to fit in a decent sized purse when it's warm.
Oh and jewelry is quite a bargain in India too. There is gold aplenty, but I prefer silver for sure.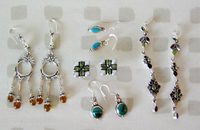 Much of these have or will go to friends, but I don't think any of them wander by my blog. All are sterling silver with semi-precious gems.
Oh, and by the way, I did work on one sock while I was there: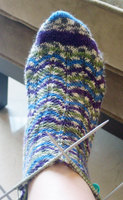 It's a bit small. If after blocking it's still tight, I may actually have to rip it out.