M for Monsoon!
It's monsoon season here in India and we are getting the full experience.
Apparently, this is not your normal monsoon, but instead it's of the "wrath of god" variety. Check out this headline.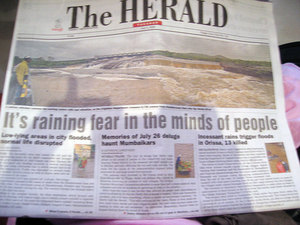 Our 2-hour drive to hotel number 2 took us 4 hours. It was hard to get really good pictures, but these are the best of the bunch.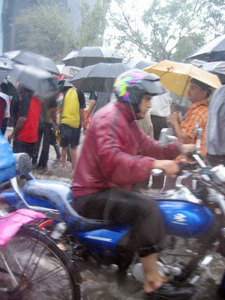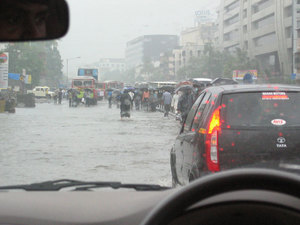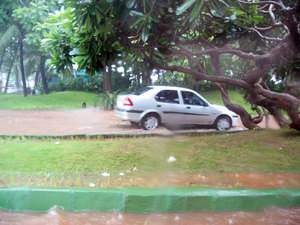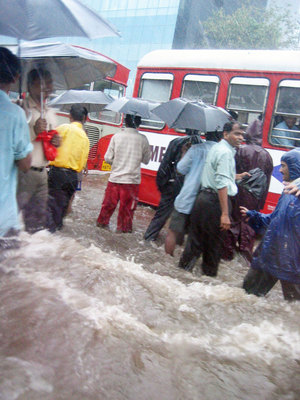 As you can see, it is entirely logical to be knee deep in water, with driving rains moving both vertically and horzontally, but to still bother with an umbrella.
There were roads that had been closed off due to land slide, gridlock (we spent 1 of the 2 additional hours, going in the wrong direction because there was too much traffic going in the correct direction), and various vehicles spilled or stuck throughout the roads. But, when you aren't in a rush to get anywhere, you can simply sit back and take it all in. As far as I'm concerned, it was all part of being in India. I am, however, pleased that my normal commute is far less arduous.
It's amazing to see the difference between the local shops....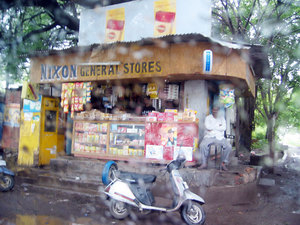 Driving around made me feel, even more, that I couldn't wait for the work week to be over and the sight seeing and shopping portion of our the trip to begin. There is some pretty crushing poverty that is always hard to see, but there is also a lot that is amazing and beautiful.
Yet, while Ganesh was hanging out in the car to ensure a quick and easy ride...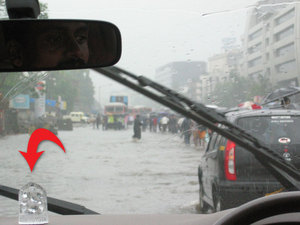 ... perhaps he sensed we were undeserving of such fortune, because our trip back from the office to the hotel showed us what gridlock really was.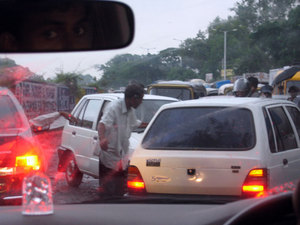 Traffic was backed up for miles not only because some roads were impassible and this was the best alternative, but also because the rules of the road in India, should be more rightly called "suggestions." Stop lights, lanes, and other street markings need only be acknowledged if convenient. The horn should be used constantly if there are any other vehicles, pedestrians or bicycles around. I am not exaggerating in the slightest. We could be in a single lane of traffic, moving as quickly as it is going to move. Everyone would be honking the horn. One should honk both as a suggestion to others to move and in all futile situations in which no apparent entity is the recipient.
To underscore this rule, all trucks have some sort of saying such as this: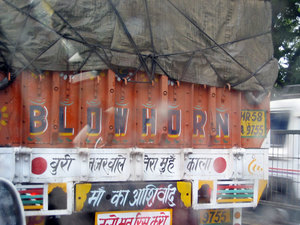 This is roughly equivalent to someone painting "blink" or "breath" on the back of their truck. While it might encourage you to do it more, there's really no chance you wouldn't have done it anyway. I cannot even fathom what someone would do if their horn broke in India. I suspect it'd be akin to losing a tire; one would simply be unable to drive the vehicle until the matter had been sorted out.
Now, where did I put that Advil?