They've got HUGE socks.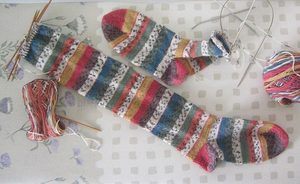 Well, my feet are pretty average, but check out this sock, baby. I've just started the ribbing portion which will run three color stripes deep, ending in a red stripe.
I don't know, maybe I'm getting subliminal messages about stripes but I'm really smitten with these socks. I should note that I own no (appropriate) skirts or shorts with which I could wear these and display them to best advantage, and yet I simply cannot wait to finish knitting both socks so I can wear them. There's a little twisted part of me that thinks I should wear them with one of my official work outfits, you know blazer, long trousers, ankle length boots, and the most crazy arse socks ever. The likelihood is that no one would know I had on my peppy long stockings, but if someone did catch a glimpse it'd definitely confirm my "not quite right in the head" status with them.
I've got some new handspun too.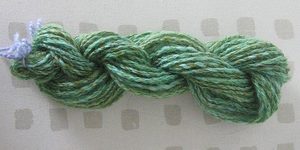 Same technique as the redwood colorway, but in pine instead. This particular batch of roving has tended to leave a little dye on my fingers, and lost a bit of blue in the bath, but is otherwise lovely and really does spin up to look like a pine forest.