The socks have been my mindless diversion lately. They get knit on the bus or in waiting rooms, where the balls are tucked away in my knitting bag. Since I have a handy dandy cooking scale, I was able to divide the original skein of yarn evenly into two separate balls. After that, it was a matter of cutting of a couple grams of yarn on one ball to get them both started in the same spot (in this case, at the beginning of a brown stripe. The smaller of the two balls ends with a complete red stripe and a little bit of yellow, so it means I can have socks that have red toes, red heals and a red cuff. YAY.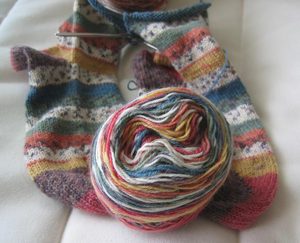 What I hadn't noticed until recently, was how many repeats I actually had. I'm about to complete the second repeat, and it's already past my ankle, and then I have 2 more full repeats plus a couple stripes after that. That means my socks can be twice as long (from toe to cuff) as they are already.
I'm torn though. If the sock doesn't reach to my knee, and I'm not quite sure it will, will it just become a slouchy mess? Am I better off making a shorter sock?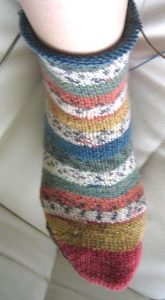 I plan to do quite a bit of ribbing at the top of the sock (maybe 2-3 inches) but if it's mid-calf, I'm not sure that will help.
Anyone with sockspertise should feel free to chime in.