I spent a good deal of my weekend working on some swatches for someone else's book, this weekend, so bloggable progress is pretty scant. I can show you my gorgeous Silky Wool swatch, though.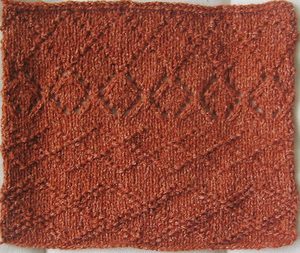 I am fighting every urge to cast on for this piece right now. But I can't and shouldn't, not until at least one turtleneck is done for Leo and my swatches are finished for the unbloggable items.
I will tell you that I have big plans for this yarn. Oh how I love the Silky Wool. I don't know how it stands up to the test of time, but it's a great weight, comes in a huge assortment of colors, has good yardage, has a delightful texture, is soft enough to wear against the skin and appears to have just the right balance of drape and structure to pull off a lot of designs.
In entirely unrelated news, I thought you might be happy to learn that the next season of Knitty Gritty has been scheduled.
New episodes should start airing next month. You can see what's coming in the next season by clicking here.
The two episodes that I'm in, do not air until later this year.