I can't quite decide what my the PPO portion of my medical insurance is referring to. I thought it was shorthand for "the world is your medical oyster" but I'm finding myself a tad frustrated today. The short story is that I need to get some inoculations so I can take a business trip to India in July, which is a very cool opportunity but is involving a lot of effort I hadn't originally considered. I think I've sorted most of the confusion out in what appears to be the first instance of my insurance company being more helpful than the doctor's office. Who knew? Anyway, I have two sore upper arms and a yellow card detailing my immunities to some rather icky viruses. There was also a bit of time to knit on Leo's sleeves.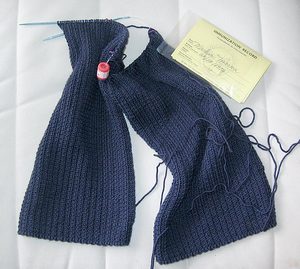 I will still need some boosters and a tetanus shot, as well as a few prescriptions, but I've got the stuff that needed a lot of lead time out of the way.
Working on Leo's sweater, I've given myself little leeway to do much else. Obviously, I knit Gir but there really hasn't been much else. I occasionally pick up my spindle which has some lovely alpaca on it.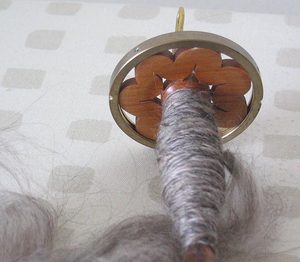 It's not that I'm not enjoying spinning it, it's just that I really want to crank through Leo's sweater and I cannot spin and knit at the same time. But, imagine if I could...oh my own vision of Valhalla.
Knitting miles of ribbing does give me ample time to consider what comes next. I'll definitely be working on the clown hat, but what should I do in India. July = monsoon season in the area. Temperatures, apparently, can average around 120 degrees though I'm told it's quite a bit cooler where we'll be. Even so, I'm thinking small, portable, and able to be worked on mindlessly. All signs point to socks. I'm not a huge sock knitter, but I am feeling that 2 socks on 2 circs will prevent second sock syndrome AND be more likely to survive a trip through security and customs without a lot of explanation. I like working on DPNs, but having a preference for metal to wood means that's probably a bad idea.
So last night I ripped out a partially knit, now abandoned project that was started with some Socks that Rock in colorway, Carbon. It needed a bath and hanging to get the kinky bits out but now looks as good as new.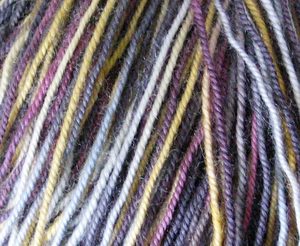 I also have some solid shades of koigu around and plenty of self patterning sock yarn, all of which will only take up a small amount of space in my luggage but which should easily entertain me for my 24 hour long commutes to and from India as well as the small amount of down time I'll have during the trip.