I grew up in NH and stayed in New England until Leo and I moved to California about 5.5 years ago. Some people are forever nostalgic for where they grew up, I am not. For all the natural and not so natural (smog, shootings and Anna Nicole) disasters we face in California, I wouldn't go back to the harsh winters and constant cloud of biting bugs in the summer, for all the tea in China.
I do, however, have some loved ones in the area, such as my parents, some aunts and cousins, and my dear friends Janet and Bill. Janet and Bill live in the boonies of a rather boonie-ful state. Their roads are paved with dirt and postal delivery to their area is only reliable in its unreliability.
They find humor in every nook and cranny of life and even the recent storms of the area have had no ill effect on their sense of irony. Case in point, a picture Bill took with the caption "Promises Promises"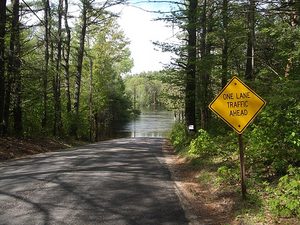 You gotta love it.