That's 2 out of the 4 big pieces for the Leo sweater, of course.
And this is not a sleeve:

It's the back of the sweater. Leo is not a super skinny man, it just needs some blocking.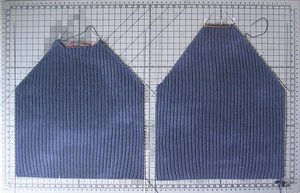 Yah, I know that most people block at the END of the process, but I bet most of those people don't have a cool new blocking board and blocking wires. Actually, that's only gravy for me. I like to do my finishing as I go. It keeps me motivated.
Quite a few folks have asked me if I'll be using my machine to knit this piece. In this case, it won't be possible. My machine has no ribber, and the manual task of dropping the stitches that should be purled and using a latch hook to rework them, is tedious and makes my back ache. I'm sure I'll machine knit Leo a sweater in the future, but this piece is all hand knit.
I'm back working in Orange County this week, which means no bus, and lunch at my desk, so progress is slow on the sleeves. Knitting Gir was a nice little instant gratification project, but I'm hoping to crank through as much of the sleeves as possible over the next couple weeks.