Here's a preview of the camisole (ok, it's more of a tank, but I think camisole sounds better) that I plan to pair with the cardigan.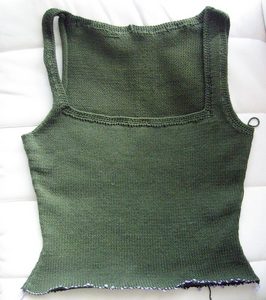 There will be no ruffles here, just stockinette and crochet. I think the horizontal lines will play nicely against the sweeping hem of the cardigan and the clean look of the crochet will tone down the effect of the ruffle a bit. The nice thing is that this piece is comfortable and wearable enough to be layered with other pieces. The straps are wide enough to hide a bra strap and the fabric has stretch so it hugs the body without being too constricting.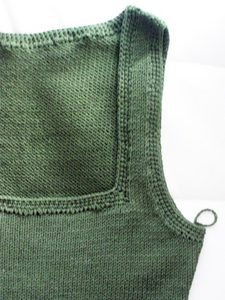 Here's a detail shot of the neckline. It could do with a bit of blocking. It's just three rows of single crochet, the last row I decrease every 9th and 10th stitch, so that it will sit flat.
Obviously, I still have one arm and the hem left to do, but it's been a very quick piece to pull together overall.