After my last post, I got together with a bunch of my girlfriends for dinner at a Tunisian restaurant.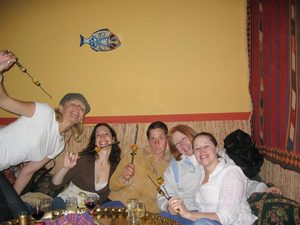 There was wine and, well, belly dancing.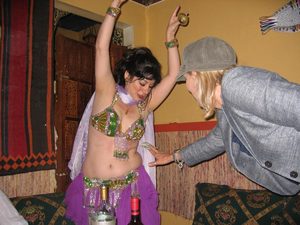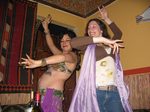 See, here's the thing about me, there's really not much more than a thin veneer of self decency that keeps me from breaking into dance at the drop of a hat (or in this case, drape of a scarf). I love to dance. So when my friends hoisted me, bodily, at the belly dancer who was trying to coax another of the group up to dance, well, I didn't put up much of a struggle. And hey, just because I've never belly danced before, doesn't mean I won't try to fake it.
And if you aren't having an hearty laugh at my expense yet, I will add that while I had had a little bit of wine, I wasn't even buzzed. I act this way sober.
Anyway, enough of that.
I've been knitting some trim onto my cardi.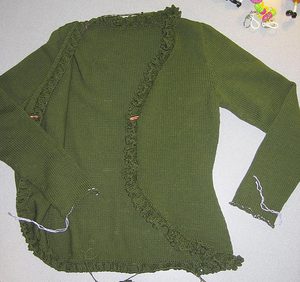 There are something like 1500 stitches going around the edge of this piece, and it is taking me days to cast off. The saddest part of all is that I'm not sure if I like this treatment. I'll bind off and see, but I'm thinking I might want something a bit softer, less ruffly. I did try it on up to this point and it looks pretty cute, but, it's not quite what I envisioned.
Would you like to see that ruffle a little closer?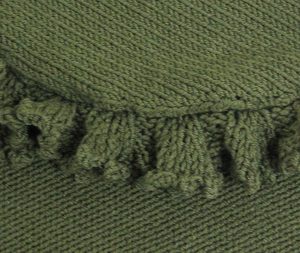 It's a completely reversible ruffle that I designed for this piece, though I'm sure others have come up with the same sort of idea. If I do end up ripping this out and trying again, I'll probably try the same thing again but with fewer increases and a wider ruffle. Or, I'll get fed up and try a different style.
And since I'm in a non sequitur kind of a mood, here's a dog in a raincoat that I saw yesterday while walking to Leo's office after work.