I got word, yesterday, that starting Monday, I'm officially promoted. Yay! I had been vying for a couple open supervisor positions at my company and both managers had told me I was their top pick, but last minute I was asked to decline those positions in exchange for equal title/pay/grade level and remain in my current role, at least long enough to complete a large project I've been working on. In essence, it means better pay and I appear more qualified, on paper, but in truth, nothing much will change about my job. I have asked to be able to attend management training courses, as they are made available, so that I will, at least, be able to beef up those skills in some way.
So to celebrate, here are some more pictures of the shawl. They still aren't quite what I want, picture wise. I'm hoping to actually don my handmade apparel, to get a better picture, sometime soon. But these are definitely better than the blocking pictures.
This picture really shows the stitch pattern well, but doesn't really show the color, because it's backlit.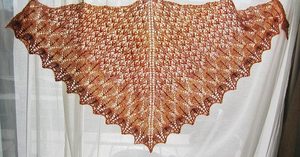 This is the best representation of the color, but is a little soft in the details.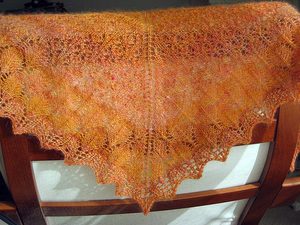 I see it worn over a black dress, on a mild spring night.