Work has been interesting, lately. We have a set of conference rooms that used to be the senior management's offices, back in the company's more opulent days. They are now a lovely set of rooms, perfect for holding one's various meetings. Skylights and lovely views offer that little flash of daylight that can make an otherwise dreary day, a touch less so. However, they are all booked this month. Apparently, Beyonce is shooting a movie in or amongst them. Now we are faced with a constant scrabble to compete for the remaining conference rooms, peppered about the building, in corners unknown. Working in downtown LA, movie shoots are not a new inconvenience in life, and we have had our conference rooms used for filming before, but never for quite so long. Such is life, I suppose.
Anyway, that's neither here nor there. I wanted to show you a little bit of the plying I did this weekend. Remember the sage colored merino/silk I spun up into singles recently? Well, it's plied now.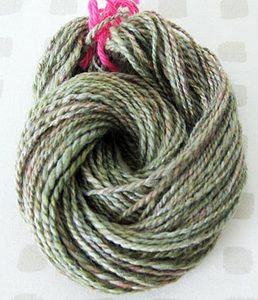 I wish you could see it in person, it has a beautiful depth to it. Most of my other spinning has been for the shawl, so it's more of the same. Speaking of which, I will hopefully finish it up this weekend, and will post pictures as soon as I can. Send your good shawl vibes my way.
Finally, Panda would like to thank you for all the love.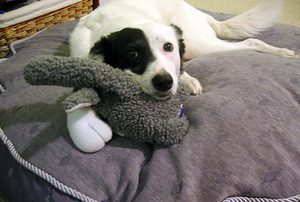 We have an agreement that for every sweet comment you leave for her, she gets belly rubs. It seems only fair.