Wednesday was a long day. It wasn't a bad day, but it was long. Leo and I left the house at 5:15 AM, so we could make some early morning work obligations, and we didn't get home till almost 9 PM, because I had a beginner knitting class to teach that evening. That's a long day. But, awaiting me, when I returned home, was a big package with a little surprise inside.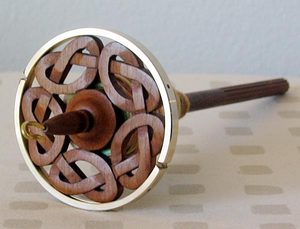 It's a belated birthday present from my step father, a brand new spindle from Golding.
I now have four wonderful spindles in my collection.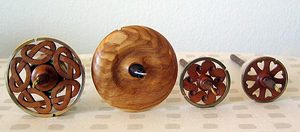 From left to right, their weights are:
1.9 ozs, 1.3 ozs, 0.9 ozs, 0.6 ozs
I've been spinning some merino and I think I'm getting a feel for the heavier weight. It's been a nice match and a good chance to practice spinning some thicker gauge yarn, though I have to admit that my left arm gets tired more quickly. I can see myself using this spindle a lot. The larger whorl means I can use it to ply my finer yarns and the weight is a nice match for roving that tends to be grippier (technical term).