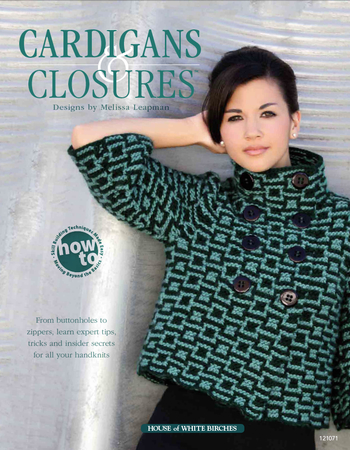 The cover features a double-breasted jacket worked in mosaic stitch
Cardigans and jackets are hugely popular with knitters. Pulling a sweater up over your head, multiple times a day, is a great way to get an Einsteinian coiffure but it's not hugely practical, while a cardigan or jacket lets you put on or take off the garment, with ease, or wear it partially open, fully closed or completely loose.
Cardigans & Closures, by Melissa Leapman is, in essence, two different books; a resource book on closures and a pattern book with 7 different designs.
As a resource, this 56 page book is concise but should cover the vast majority of closure needs, from those that need not be planned for ahead of time, such as zippers and loop closures, to those that are integrated right into the knitting, such as the double-breasted mosaic jacket on the cover. All techniques are fully explained and many offer helpful illustrations as well.
For those whose prefer seamless designs, with integrated plackets and closures, you may find this book lacking. Garments are all worked in pieces and most of the button treatments are picked up and knit on or require some seaming work.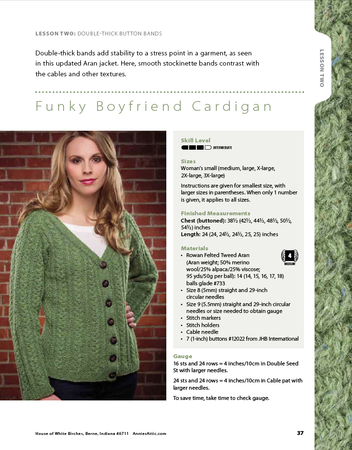 The Funky Boyfriend Cardigan has a sturdy double thickness placket that is knit flat, folded, and seamed to the wrong side.
As a book of knitting patterns, Cardigans & Closures offers a nice variety of stitch patterns, lengths and, of course, closure treatments. Projects use Craft Yarn Council standards for sizing, skill level, and yarn weights, offering garments to fit bust sizes from around 28" / 71 cm up to 54" / 137 cm. Patterns use imperial measurements with a metric conversion chart at the end of the book. More complex stitch patterns are charted, only, but the charts are clear and the repeats are relatively small.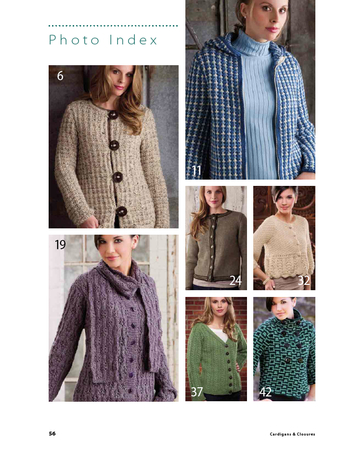 The seven designs in the book.
Silhouettes are all straight through the body (one garment has a flared flounce at the bottom,) with no waist shaping, and the garments mostly feature modified set-in style sleeves. While I'm partial to more figure hugging shapes, many of these would be easy enough to modify, if a different shape suited you better.
For those of you who might be looking for a resource to help you improve your closure making skills, or if you like any of the projects shown, you should find this little book a good resource. I could see this being particularly helpful to people who want to convert existing pullover designs into cardigans.
If you want to find out more about this book, you can see the press release here.

Note: I received a free copy of this book from the publisher for review purposes. I received no other compensation for this review.