Last we met, we were discussing my stitch marker collection. Here they are again: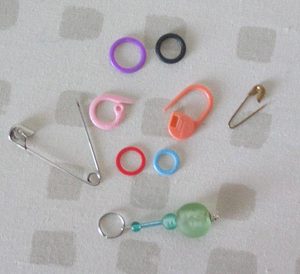 While I have plenty of uses for the split and locking stitch markers, they don't do much of the heavy lifting here at Chez Marnie. I have to say, though, the feedback I got from the previous post was interesting. It appears that most people fall into one of a few disticnt groups.
There are the people who are most concerned with aesthetics. Having something cute or sparkly brings a smile to the knitter's face. While others are economical and practical. Using bits of string, hair elastics or a cut up straw means never worrying about lost markers or spending too much. Finally, there are people like I am. So without further ado, go ahead and read a bit more about the madness to my method, after the bump.