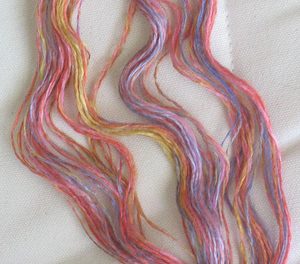 I've been doing my crafty thing as well. Here is some left over wool/soy silk roving I've had a little sample of. Since there was such a small amount, I spun it as finely as possible. I used my 0.6 oz Golding spindle which helped me achieve a true lace weight yarn. I knit a little swatch of it last night and got 9 stitches to the inch on a US #1 needle and I certainly could have gone down a needle size without a problem. This stuff spun beautifully. I assume it's the soy that gives it its smooth drafting ability since I still find myself struggling a bit with pure wool.
It's taken me a little while to adapt to my 0.6 oz spindle. I learned on a 1.3 oz, have been using my 0.9 oz for almost everything but I'm now really starting to appreciate this lighter one. I know there are people who can spin spider web thin yarn on a 3 oz spindle and I tip my hat to those folks. I just can't get enough spin into the fiber soon enough to ever be successful. My spindle will have proven its dropping ability long before I get a yard spun. But a light spindle holds its own challenges. I realize it's all simple physics, but it's hard to know exactly how it will feel if you aren't well versed on those sorts of sciences. In my case, I face two big hurdles with a lighter spindle.



I have to spin the spindle harder to get a long enough spin to be productive. Or, I have to spin the spindle more than once to spin the same length of yarn.


The spindle tends to be less stable in its spin. I suspect this is partially technique on my part, but, while drafting, I sometimes maneuver in such a way as to send my spindle into a planetary like rotation, where the poles no longer sit at a true north/south*. While this works splendidly for our fine earth, it's less effective for a spinner.

* Ok, ok, I know that North and South are relative to our own planet and not the least bit relevant once you step off the planet or out of our solar system. Let's think "grade school diorama," for this analogy, ok?
More spindly fun, after the bump.