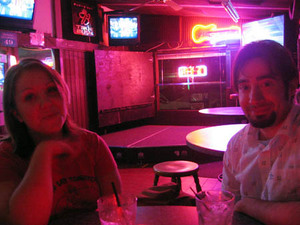 Matt and his girlfriend left town yesterday after a fun filled weekend of eating, partying and eating some more. We also did a bit of snacking between meals. I'm not sure if meeting Leo and me completely doomed Matt's relationship with Jess but if that didn't, perhaps seeing Matt do karaoke did.
Because I'm a loving and good sister, I recorded said karaoke for all the world to enjoy. Do you have Quicktime? If so, click on one of the links below
Don't forget to crank those speakers.
This was about a half hour before midnight on New Year's Eve. We went down to Santa Monica where we found a bar full of happy people enjoying some of the flat out worst karaoke I've had the opportunity to experience.
More pics from the weekend, after the bump.