...that all started with the Big Bang (Theory).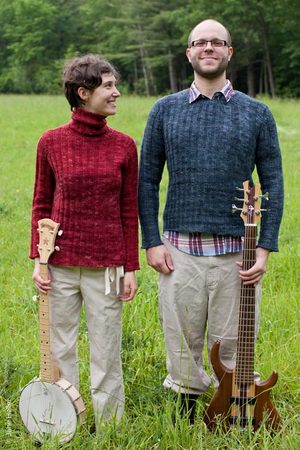 Leo and I haven't had cable television for about the past 5 years. There was so little we actually wanted to watch that we weren't really getting our dollar's worth. We do have Netflix and Hulu set up and, of course, all 3 of the local PBS stations, and that works fine for us, however we are somewhat reliant on other people to let us know if there's anything we should be watching on Netflix, and it was my parent's suggestion that we watch The Big Bang Theory, that ultimately led to my most recent Twist Collective design, Doppler.
Maybe I shouldn't admit that. The show isn't known for it's cutting edge nor stylish fashion and this clip that spawned my design may make you wonder how many glasses into a bottle of wine I was when inspiration hit.
Nonetheless, after seeing this costume, I had this idea of a men's sweater, with an asymmetrical ribbed pattern that radiated out from one shoulder. To be honest, from what I've seen, men's garment patterns don't sell quite the way women's do. It could be that they generally require more yarn or that more knitters are women and only knit for men on occasion. It could be that men frequently prefer garment styles that are a bit boring to knit. Or it could be something else altogether, but regardless, it seemed to make sense to offer this pattern both for men and women.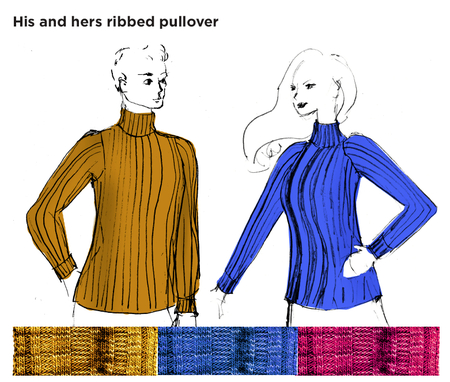 My original submission sketch and swatch
After talking with Kate, we decided that not everyone would be keen on the turtleneck so a second neckline option was in order too. This meant that the final pattern offered 11 women's sizes, 12 men's sizes and 2 neckline options for each. Now that's a-lotta-pattern to write. The tech editor may never forgive me.
The garment is worked from the bottom-up, totally seamlessly, including the set-in sleeves, and once the set-up row for the ribbing is done, the stitch pattern is established and you can just knit away.
It was a lot of work cranking out two full sized garments in just over a month, but I managed to pull it off with enough time to get a few shots.
Leo looks mighty good in the men's version.
But, I think I give my handsome guy a run for his money.
I hope that people who knit this pattern will find it a great wardrobe staple. The two Blue Moon Fiber Arts yarns were both a joy to work with and next to the skin soft as well. Check out Doppler and all the other great designs in this season's edition of Twist Collective