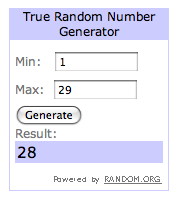 Well, I honestly couldn't have planned this if I tried but the trusty random number generating site not only picked someone I think is a great person, but it also picked a cringe inducing story, to boot. The winner of The Knitgrrl Guide to Professional Knitwear Design is none other than Julia. Congratulation, my friend!
To everyone else, thank you so much for brightening my week with hilarious stories. I laughed through my cringing and cringed through my laughing. It is reassuring to remember that almost everyone has at least one of these stories under their belt.
If you are interested in getting your own copy of the book, you can go to this site. Thanks again to everyone who left a comment.