Today is Leo's birthday, which he hates because he's a birthday scrooge but that's OK because I love him and his birthday, enough for both of us. So a big happy birthday to my favorite human. Here's hoping he has a zillion more of these to suffer through.
As it happens, today is also the day you can check out my new pattern, Helios. Right now, it's available exclusively through Black Trillium Fibres. Melanie is hosting a KAL with prizes to be decided. You can get all the details here. I'm pretty excited about this shawl design. I had a lot of fun designing it and the yarn is a dreamy mix of silk and merino in a fine lace weight, which always feels extra special to me.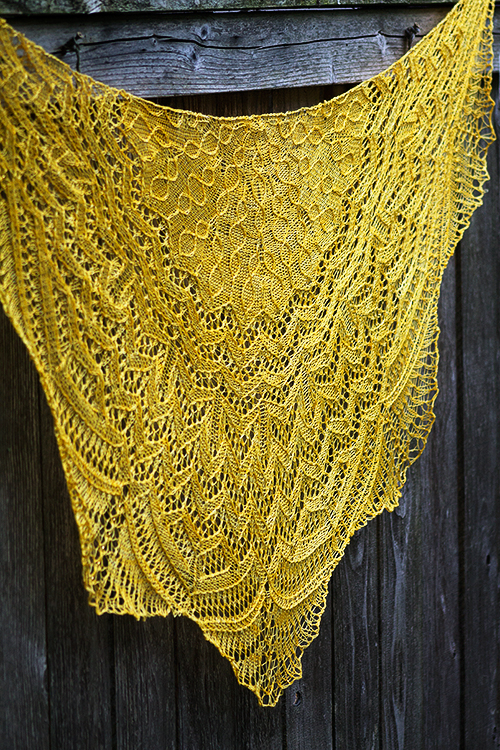 This piece uses Zimmermann's pi-shawl construction, starting at the center neck and working out to the borders. The pattern is entirely charted with no written-out instructions and those buying the pattern during the KAL will receive a printed pattern.
With this shawl, I really wanted to play with the way different stitches read as different shades of the yarn color. Against a dark background, the yarn overs read as darkest and least saturated, then the purl areas, then the knit until you finally reach the twisted stitches which are the most saturated and brightest. Those twisted stitches work to form an outline between stitch patterns, giving a strong line of delineation between sections.
And since the yarn is so light and airy, I added just a few beads to the hem to give it a little weight. These are added as you are knitting, using a small crochet hook. They are, of course, totally optional.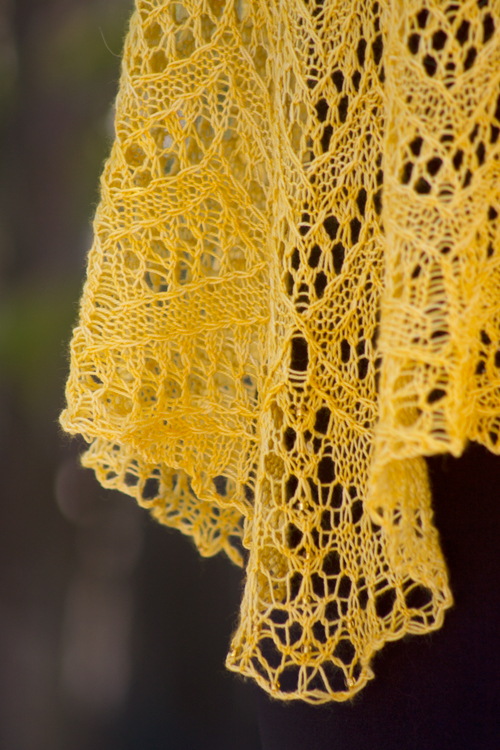 I hope that if you are interested in the design and you have the budget and time to knit the pattern and purchase the yarn, that you'll support Melanie at Black Trillium Fibres. She's a local (to me) independent yarnie and she is as great to work with as her yarns are beautiful. If new yarn isn't in the picture for you, but you like the pattern, both she and I will be selling the pattern alone, after September.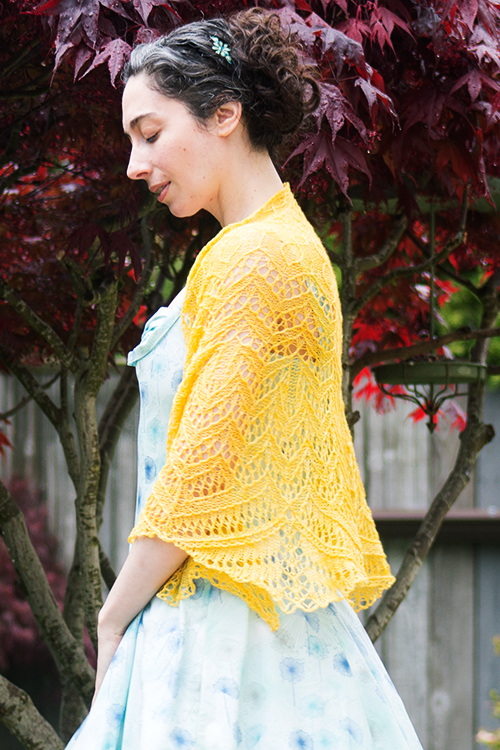 I'm looking forward to following the progress of the KAL and seeing people's finished shawls. As always, if you have any questions, feel free to let me know. See more details and photos on Ravelry.