Almost three years ago, if I have the time line correct, Donna Druchunas asked me if I'd be interested in submitting a design for a book she was working on. She had a variety of lace stitches we could choose from and our pieces had to feature at least one of those stitch patterns.
Donna just released a couple of the pictures from the book, Successful Lace Knitting: Bringing Dorothy Reade's Patterns and Techniques to Today's Knitters, and, lookie, mine is one of the ones she's previewing.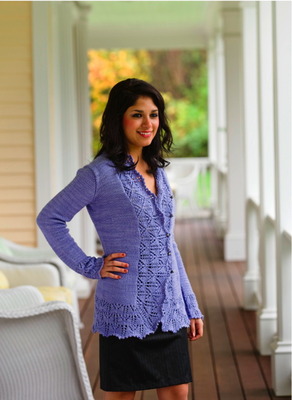 Photos by Brent Kane, copyright Martingale & Company
You can see the other pieces she's previewing here.
I'm knee-deep in deadline knitting. I like to think that means I'm embracing my alter ego:

The upside is, I think I make a decent super villain. The downside is, I won't have much to blog until the end of the holiday season.
I'll try to slip you a few pup posts in the interim, you know. like this, where I send my dog out into hail.