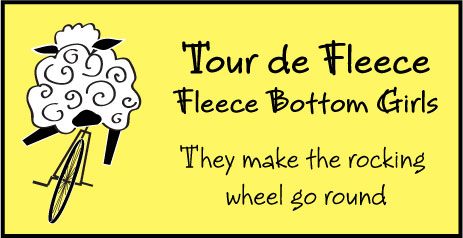 I've decided to join the Tour de Fleece (also, on Ravelry) after Mary-Heather invited me. As you can see, I started my own team, Fleece Bottom Girls. If you want to join my team, the thread is here on Ravelry, along with some buttons and a ravatar.
In light of the upcoming event (or just because I love spinning) I've been honing my skills and cranking out some yarn.

1. Bobbin--Deep Sea merino/tencel, 2. Schnoz--Deep Sea merino/tencel, 3. Dime for scale--Deep Sea merino/tencel, 4. Skein--Deep Sea merino/tencel
Created with fd's Flickr Toys.
I picked this up over at Etsy and I love it so much. The bottom two images are closest in color. I should have dropped the red a bit in the top two.
The finished yarn is about a fingering weight. There are ~430 yards and it's a 2ply, plied off of two bobbins until the end, with the remnant off of one bobbin andean plied. The tencel ads a great drape and gives the finished yarn a real shimmery quality.
I also decided I needed to try to spin a little novelty yarn, mostly because I've been reading about some of the techniques and while I don't like novelty yarn, and I don't have any desire to knit it, it seems like it'd be fun to spin.
So I took some cotswold (which is a lot like mohair) and spun up some singles thick and thin.
The fiber came in batts so it is super floofy and hairy and the thick and thin really just looked like messed up dreadlocks. It probably doesn't help that my thick and thin intervals were pretty uneven.
So then I spun up some very fine singles in the same fiber, and worked them semi-worsted (as much as I could with carded fiber) to get a smooth and sleek singles. I plied both singles together and got this.
Yah, I won't quit my day job.
I've also been spinning some merino/tencel on my new spindle.
This fiber is from Spunky Eclectic and the colorway is Black Cherry.
Lastly, also from Spunky Eclectic, is the Cormo I got from the Fiber Folic.

I've professed my love for cormo, here, before, and having it dyed so beautifully only makes the heart beat faster.