My birthday is right around the corner (the 18th if you're curious) and, true to form, Leo presents me with a gift, the moment he decides what it is.There's no wrapping and waiting around these parts. Who cares though because I got an iTOUCH! Squeeeeeeeeee!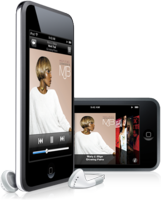 Image copyright Apple Computers
I leave for a business trip, tomorrow, so I'm filling her up with music, podcasts, videos and photos. Yay for toys.
---
Thea just had her first agility course since November. I thought, for sure, she'd have forgotten everything, but she did great.
Well, when she wasn't on the course, she was still a big ol' floozy...
This is her new BFF, Rio. I think they would have run off and gotten married, given half a chance. More than a few people felt they should go get a room.
So, yah, Thea had fun, but check her out on the course. She was doing great considering she hadn't been in a class for months. That was a pretty easy course, but I was happy to see her doing so well. Go Thea!