A year ago today, Julia and I were in the redwoods on our way from LA to Portland, Oregon.
I had just spent a month away from Panda and Leo, who'd moved up to Portland to start his new job.
After a couple weeks at Julia's house, and much planning we hit the road for our scenic and spinny adventure. There is no event quite like a road trip to get one past the "close acquaintance" stage right to friend. It's hard not to bust out laughing as we regale ourselves and anyone else who will listen, with stories from our adventures.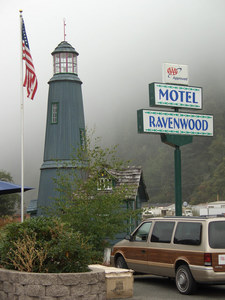 I'll forever hold a warm space in my heart for the Ravenwood, even though there was no running water when we awoke.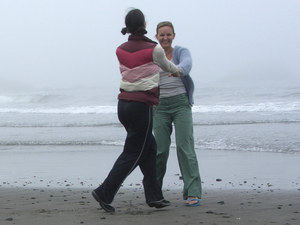 And I still remember the gorgeous fog over the ocean, surrounded by redwoods. Who wouldn't bust out into full dorkatude?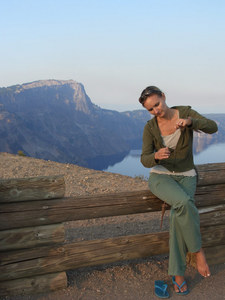 We nearly skipped Crater Lake, after some set backs and delays, but we made it and it's as breathtaking as everyone says it is.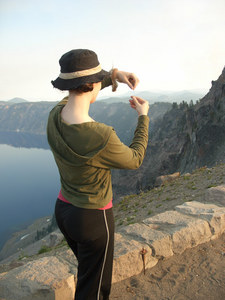 And best of all, I have been able to live in beautiful Portland, Oregon. I love it up here, though I miss all my friends in LA. Julia makes for a great road trip companion and I would do it again in a heartbeat.
---
I've been doing a bit more than my usual reading and all of it has been good, so I thought I'd share my recommendations.

On the nightstand
Actually, that's not the current cover for SI. The current one covers AIDS deniers.
The Gospel of the Flying Spaghetti Monster
is a real hoot and sure to offend almost anyone. I'm glad to call myself a Pastafarian, rAmen!
Guards Guards
is currently my top reading to keep me from reading too much of what I'm...
...Savoring

Need I say more? I don't want it to end.
Recently finished
I really love
Michael Shermer's
books and articles and
The Science of Good and Evil
is no exception. He's also the publisher of
Skeptic
, to which I subscribe.
My mother lent me Middlesex and it was indeed funny, touching, thoughtful and moving. I generally shy away from books that are highly publicized and I'm not a fan of all of Oprah's suggestions, (yes, I'm one of those wet blankets who isn't into the whole
The Secret
phenomenon.*) but this book is definitely worth a read.
---
* That is, I don't believe in a magical force that brings luck and money to people who really want it.
However there is evidence to suggest that people who believe they are lucky are more likely to do things like enter drawings and raffles or build their social and business network which can result in more fortunate outcomes.