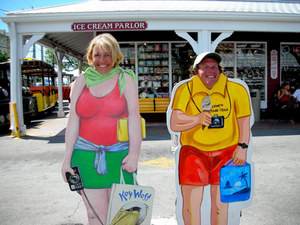 My cousin, Allen, and his wife, Cora, have been living on their boat for, what, a year and a half, and chronicling their adventures on their
blog
. (Actually, they've been living on their boat for much longer, but they were docked in San Fransisco before.) They've traveled to Honduras, Panama and many ports of the US. Crazy stuff. Recently, their boat got
hit by freakin' lighting
. They are fine, the boat, not so much.
Personally, I'm equal parts in awe and perplexed by how they do it and how they don't end up killing each other in such tight quarters. Still, if they didn't do it, I wouldn't be able to read about it.
If you are up for some fun and hilarious reading, head on over and drop them a comment.