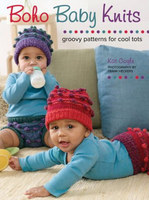 Thanks to Julia for posting about this.
I really can't tell you how excited I am for the release of this book. I have a pattern in here but I'm not just excited about my own piece. There are some phenomenal pieces from Julia, Mary Heather, Edna Hart and, of course, the author, Kat.
It was a truly extraordinary experience working with Kat. While I can't say I've had too many bad experiences designing for other people, working with someone who is an experienced designer, in this capacity, is liberating. She knows how to give just enough encouragement and direction to keep you on track but leaves you plenty of room to flex your creatively, and she is unfailingly supportive.
Since I was living in LA at the time, I was able to see many of the original proposed designs and I'm eager to see their final incarnations. The items I have seen are instant classics and should appeal to wide range of skill levels and taste.
The photograph? There's only one word for it, "beautiful."
It looks like I have to wait until November to get my grubby hands on a copy. If you are interested in pre-ordering, all the info is available here.