I am participating in Kelli's project to make care packages for children in an orphanage in Mozambique (thanks Jessica for the link!).
She has asked that we include a card with a picture and a note in English and Portuguese, extending our well wishes and friendship. She links to Bablefish, which is fine, but I know from experience that the results are often comical at best and unintelligible at worst.
I have my packages all ready to go, I just need to write my notes. I was wondering if there is anyone who'd be willing to help me translate my English message to Portuguese?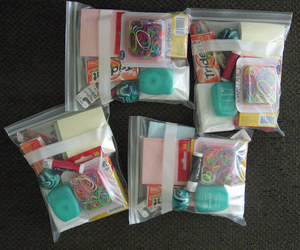 It's amazing how much you can fit in a quart sized bag!
In case you are wondering, I have 4 bags each with the following items:



Sheet of stickers


Soap


Toothbrush


Hair elastics in lots of sizes and colors


Floss


Chapstick


Gum


Crayons


2 pads of sticky notes to use with the crayons


A bouncy ball


Not bad for cramming into a single quart sized bag.
If you want to participate, please do so. This seems like a great cause and Kelli has assured me that if she gets too many bags, she'll take the excess to the next orphanage she visits. Read all about it here.
Anyway, I digress
Subliminal message: go participate
If you happen to be willing and able to help me translate a simple message, suitable for about a 7 year old, I'd much appreciate it. Just leave me a comment.