When I worked on site, at my job, I was often pretty far away from windows throughout the day. What little of the day I saw, was usually while I bustled between meetings.
Now that I work from home, I sit right next to a window, and I have Panda by my side. It's all I could ever have hoped. I love it.
There is one downside, though, when the days are absolutely beautiful, I feel like I'm in 3rd grade waiting for the school bell to sound and mark the end of the day.
Yesterday, was one such day. The sun is absolutely beaming, everything is verdant, and it was a mere hours before my weekend was scheduled to start. I could barely contain myself.
When my shift was up and I'd finally completed all those little things that seem to come up just when I think I'm done for the day, I decided that Panda and I needed a relaxing afternoon in the backyard.
We don't have any proper lawn furniture, but we do have some portable camping chairs. Ours happens to have a perfectly sized drink holding divot and yarn holster.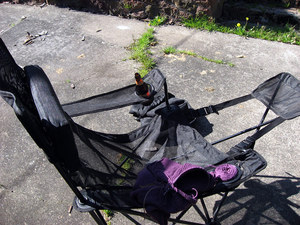 For a drink, I had myself a beer, though, to be honest, I was more like 25% of a beer, because I am a cheep date and it started to make me sleepy. For knitting, I had my super secret Stitchy McYarnpants project, so all you get to see is the gorgeous plum color and a big heap of knitted fabric, stitch holders and needles.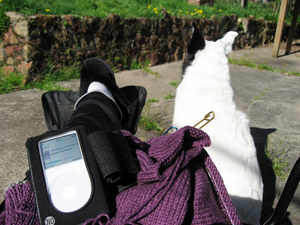 For entertainment, A Game of Thrones on my iPod. I'm such an audio book junkie. I'm so enamored of them, I exercise to them instead of music.
Panda made good use of the backyard as well.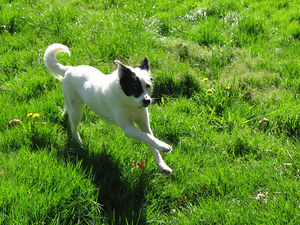 Then she finally settled into a nice shady spot to watch me knit.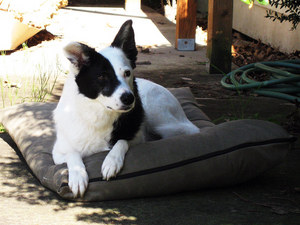 In the evening, I spun some of the Pearl colored Optim I got from Janel, last year.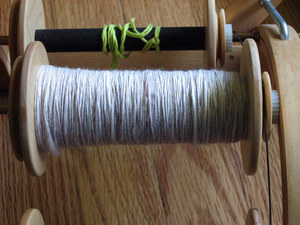 This is my first time spinning Optim and it is unbelievably smooth and soft. Her colorway is beautifully subtle, which I love. This will be a colorway I can work into a very wearable item. I've started the second bobbin and will ply the two before moving onto my new Luxury Fiber of the Month; Baby Camel! I'm sure I'll absolutely bastardize the camel like I did the yak, but who cares, it's too soft to let languish.