This Sunday, I flew down to Los Angeles for work. Apparently, Sunday, at about the same time, another plane landed as well. Oh boy, 500 extra passengers, what could possibly go wrong?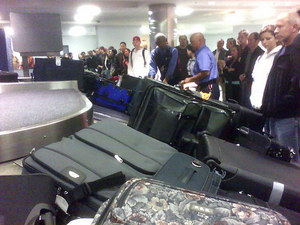 There are words, some more family friendly than others, to describe the baggage claim area at LAX. Most carousels were collecting baggage from 4 or more flights at any time. This is a pic of carousel 1 which was at one end of the this terminal. My fellow passengers and I got our cardio workout walking between this and carousel 4, at the other end of the terminal. Every few minutes, someone would announce, over the intercom, the new expected location of our luggage. I found myself surprisingly unfazed by the whole thing. I flew in a full 14 hours before I needed to be at work and there simply wasn't anything to be done about the situation. Plus, who among us couldn't do with a bit more exercise? Others, though, did not seem to be so zen about it.
All of this is just to say that blogging shall be sparse this week, while I work, which is just as well since I will have very little knitting time until Friday. I did manage to bring my Portland weather to LA, though. Sorry to all my So Cal neighbors, though I have to say, I kind of like it.