Well, I made it home after a busy week of working and some serious knitting, all weekend long. It was a great weekend, though my travel karma is definitely out of whack. More about that near the end of the post.
The week started on a great note, when the manager in OC treated me to some Spongebob goodness. Here are my bath pals.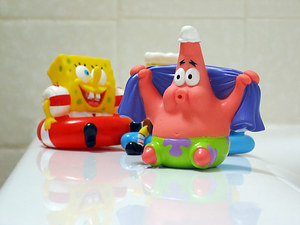 They squirt water when you squeeze them. Is this an appropriate bath accoutrement for a 32 year old? I suspect yes. Did I use them? You bet your sweet tush I did.
I didn't have much time during the week for knitting, so I only did a touch of swatching for a future design that I am envisioning.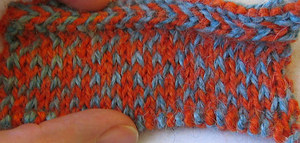 I started by following Jody's instructions for the Latvian braid (at the top, I prefer this stitch pattern inverted). I should have reversed the foundation row to achieve the proper effect. I was working a technique that was meant to be worked in the round, flat and I flubbed that portion, but that's no fault of the tutorial. Otherwise, it's very easy and a great way to start a 2-color piece.
I don't actually plan to knit this particular stitch pattern, and probably not in these exact colors, but I do plan to use some of my Blue Sky Alpaca of which I have a few other colors. While I like how the orange really pops against the blue, I think, in this particular usage, it's too much. The yarn is leftover from a project that I did for Kat's upcoming Baby Boho book. I really can't wait for it to be published since I'm so happy with the finished project.
Once the work week was over, I got to spend a couple days with my always gracious and welcoming friend, Julia. She had a very busy week, so I got some good bonding time with her kitties; Townes and Tuna.
Townes just walked all over me for the first few hours. Nothing says "welcome back, my friend" like being treated like furniture.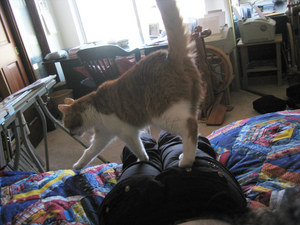 He also made sure I didn't oversleep during nap time. Thanks Townes!
Tuna was just blissed out the whole weekend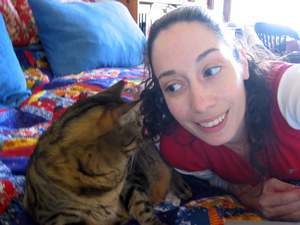 I took this picture right after she walked over to me and started linking my cheek. She's so cute. She did a few of those hardcore head rubs on my forehead and then plopped herself down for some belly rubs. I'm pretty sure that in Tuna's past life, she was a loving little lap dog.
Don't believe me?
Here she is snuggling her doggy chew toy.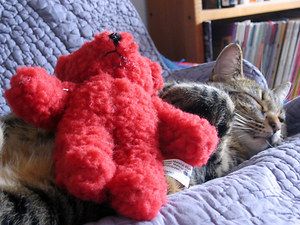 There ain't no catnip in this teddy bear, just a kitty feeling all kinds of bliss with the world.
Unfortunately, I didn't get any pictures of the beautiful Zosia, but she and I had some nice walkies and explored the hilly streets surrounding Julia's house.
I also, because I'm so great at this blogging thing, don't have any pictures of the subsequent S&B at Nicky D's. A few of my favorite people were there, and some were noticeably not and missed.
I did tons of knitting for a top secret project I'm working on for a McYarnpanted individual. You'll just have to take my word for it. No pictures for you.
The trip home lacked the joy of the weekend. I left for the airport very early, to allow time to fill up the tank of and return my rental car. That went unexpectedly smoothly which left me a couple hours to entertain myself in the Burbank airport. I got even more time when the first leg of my flight was delayed. Guess what that means? I missed my connection. The next flight didn't leave for another 2 hours and I was only granted standby for that. The good news; I got on that flight, narrowly, by the skin of my teeth. (Am I the only one who finds that image pretty horrifying?) The bad news; my luggage didn't get the memo. The OK news, United had it delivered to my home later that night.
All said and done, no harm, no foul and my greeting when I got home was as loving and enthusiastic as I'd hoped. Yay for visiting friends and yay for coming home.