Not too very long ago, Ms Janice (whose sweet dog, Ivan, recently passed, so send your hugs her way, if you can,) linked to this Etsy shop. I saw the most beautiful hand painted merino roving in her shop and I knew it had to be mine. I'm such a sucker for those nearly solid rovings.
I decided I really wanted to put my lazy kate to work and make a 3-ply that wasn't a Navajo ply. My scale has been on the fritz lately and my backup scale is somewhere in the deepest reaches of the city of boxes, we call our garage. The only thing to do was to wing it and hope for the best.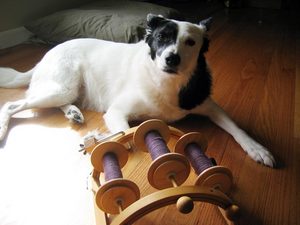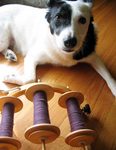 When all three bobbins were filled, it was clear that they all had a different amount of yarn on them. I plied all three until the first bobbin was empty.
I'm sure this is pretty common practice among other folks, but in case someone hasn't thought to do this, here's a technique I like that works as well for 2-plies as it does for 3. I decided to take the fuller bobbin and wind it into a bracelet for the Andean plying method. If I were working a 2-ply, I'd just take the only bobbin that had yarn left on it and wind it into a bracelet.
Once the bracelet was complete (note that I didn't cut any of the singles) I overlapped the the end tail of the bracelet, with the end of the tail from the first empty bobbin. I can now make my three ply from the one full bobbin and the two ends of the bracelet.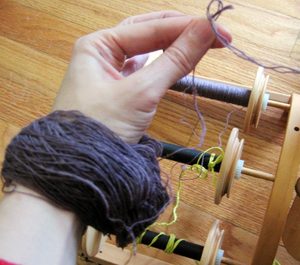 It's a bit fiddly, but it gets the job done.
I was either going to end up with a little extra bracelet or a little extra bobbin. I had hopped for the latter. It would have meant I could have finished the batch with a Navajo ply, maintaining a three ply through the entire skein (albeit with three different methods).
However, I had just a very small amount of bracelet left and it hardly seemed worth the effort to get it to a place where I'd only be feeding off the singles again, so I proceeded with a 2-ply to the end.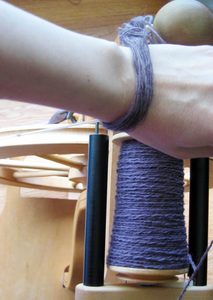 I ended up with about 3 yards of 2-ply, and almost 350 yards of 3-ply. Arguably, no waste, though the three yards of 2-ply are darn near useless.
The end product is pretty nice. There are definitely thicker areas and thinner areas, and over and under spun sections, but that's pretty much par for the course with my skill level.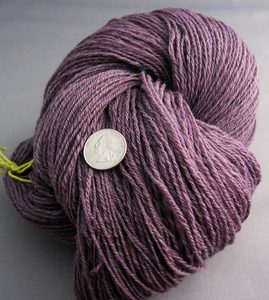 The end product is about a worsted weight, with tons of sproing and softness. I'm toying with the idea of making some sort of felted bag, but maybe a scarf would get more use. Only time will tell.