Both Leo and I have a 4 day weekend so we decided we would take the little poopers to the beach, come hell and especially come high water. She really digs that. We bundled up on the first relatively dry day, and packed into the car.
Cannon Beach has really been our beach of choice if only because it's the closest one for us to go to. So a lot of these pictures will give the regular reader of this blog, a vague sense of déjà vu all over again once more...again.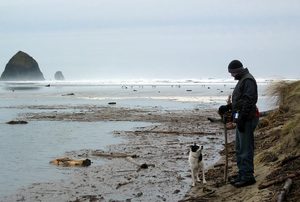 It was a brisk day with a light breeze and nary a drop of rain. Perfect weather for a game of doggy tennis.*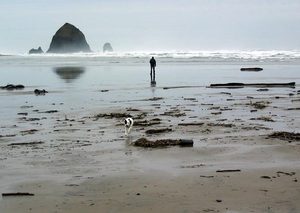 All the fun was set against a gorgeous foggy backdrop.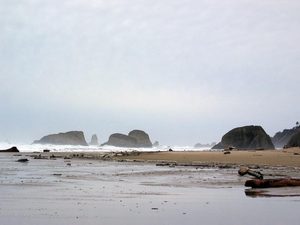 But Panda is a bright girl and she knows a dog cannot live on tennis alone.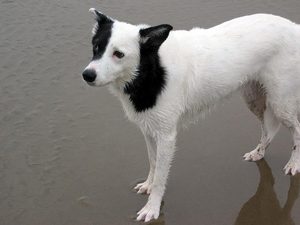 Bring on the SQUIRREL!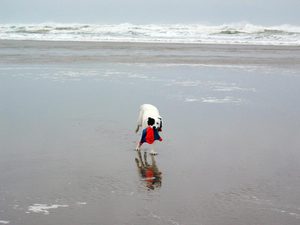 I got it in my head that we really needed a "family" photo for once, so I propped up the camera and set the timer.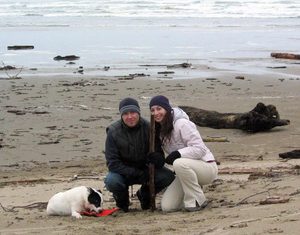 Attempt number two was foiled by a bad case of "shake the squirrel."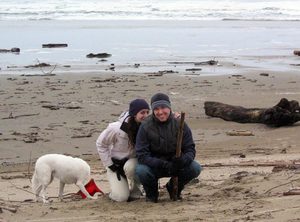 Maybe today wasn't the day for a family photo.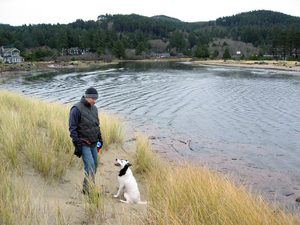 Back in the car, just out of the beach parking, we saw a field of bunnies. I all but leaped from the moving vehicle and ordered Leo and Panda to find a place to park for a moment.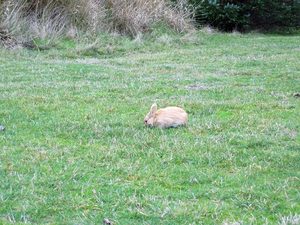 The bunnies, they are very cute. I crouched down and tried to get a good photo, when suddenly, one began bounding full speed ahead at me.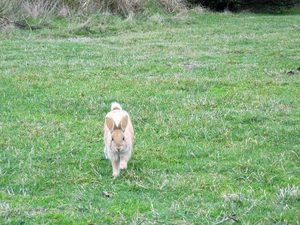 Being the entirely sane and not-at-all-girly person that I am, my initial reaction was "OH GOD! I'm about to be attacked by a charging WILD ANIMAL!" I stepped back. And then reality tapped me gently on the shoulder and mentioned that it was a bunny rabbit, nearly domesticated, and probably unlikely to prevail in hand to hand combat.
Having regained my momentary lack of composure, I was able to get some rather fetching, if I do say so myself, photos of the little chap.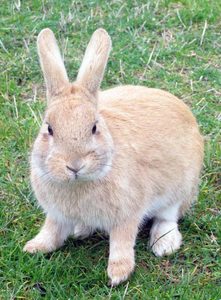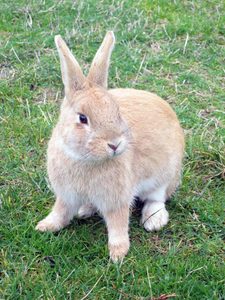 Ahhh, all weekends should be 4-days long and full of such joy. Here's hoping all of you are having just as much, or more fun.
*Doggy tennis involves two people standing relatively far apart and each calling said doggy, in turn, so that she must run back and forth until she tires her cute little butt out a little.