Copyright Marnie MacLean 2003
Click on Images for Larger View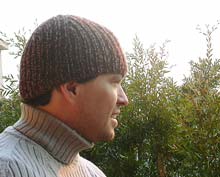 Gauge:
14st x 20 rows = 4"
Supplies:
#10.5 dble pointed needles (set of 5 if possible)
1 skein of Scottie in color of choice
Yarn substitution
Scottie is a bulky weight wool yarn. Any bulky weight yarn that achieves gauge should be fine. To reproduce the look of this hat, you could hold three or more different color strands of sport weight yarn, at once, and knit them as a single yarn. In this case, the colors are red, white and black.
Stitches used:
Hat
The pattern is written for Adults with Child size in parenthesis
CO 70 (60) stitches and distribute evenly over 4 of your 5 dble pointed needles. Place stitch marker between first and last stitch to mark end of rounds.
Working in the round, K1, P1 for 22 (15) rows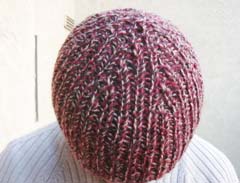 Decrease:
Row 1:*Work 8 stitches, K2 tog* To end
Even Rows 2-18: K the K and P the P. (the decreases will cause alternate even rows to have 2K in a row)
Row 3: *Work 7 stitches, P2tog* To end
Row 5: *Work 6 stitches, K2tog* To end
Row 7: *Work 5 stitches, P2tog* To end
Row 9: *Work 4 stitches, K2tog* To end
Row 11: *Work 3 stitches, P2tog* To end
Row 13: *Work 2 stitches, K2tog* To end
Row 15: *Work 1 stitches, P2tog* To end
Row 17: *K2tog* To end
Do not BO. Cut 12" tail and use tapestry needle to run tail through remaining stitches twice. Pull tight, secure and work in tail. Work in any other remaining tails.
Depending on how tightly you knit, you may wish to block this hat a little, especially if the top of the hat looks pointed. I did not need to this with this particular hat, but have had to do so with other hats using this pattern.
Thank you so much for your interest in my patterns. Most of my free patterns were efforts to learn to design and do not conform to industry standards for sizing or terminology. Enough people continue to knit from these designs that I am happy to leave these patterns up for people to use but I cannot offer any amendments or substantial support for them.
As with all my patterns, you are welcome to use these patterns for your own personal, non-commercial or charitable use. If you wish to sell items made from these patterns or teach classes using my patterns, please contact me. Please do not distribute this pattern in print or electronically or post this pattern to your own site or publication. If you wish to share this pattern, please send the person a link to my site.