While on Ravelry, the other day, the topic of charting cables came up and it occurred to me that I've covered using Excel for; colorwork, pattern writing, simple lace charts, and complex lace charts. But what's this? No cables? Have I been smokin' the wacky tobacky?
Now, cables can get pretty complicated, and there will be times when your design, just can't be visualized with the tools built into a spreadsheet program, but for pretty standard cables, I think I can cover what you need here.
As always, I start by formatting my page.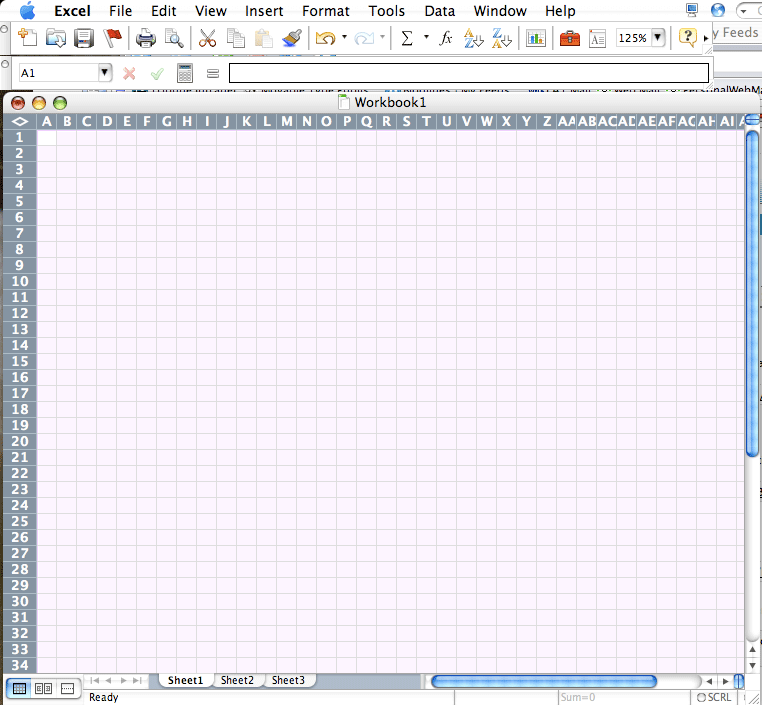 I've covered this in previous episodes, so browse those, if you aren't sure how to change the size of cells to be more knit stitch shaped.
---
Our first cable is going to look like this.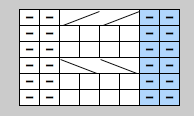 This chart would read, if written out:
Row 1: P2, *k4, p2* repeat from * to * to end of row
Row 2: Knit the knits and purl the purls
Row 3: P2, *slip next 2 stitches on cable needle and hold in front, k2, k2 from cable needle, p2* repeat from * to * to end of row
Rows 4&5: Repeat row 2
Row 6: P2, *slip next 2 stitches on cable needle and hold in back, k2, k2 from cable needle, p2* repeat from * to * to end of row
So those diagonal lines simply represent the stitches being crossed. They may not look exactly like other charted cables, but they convey the intention and the approximate look of the cable.
---
To start with, set your foundation row. I want my +2 stitches to be in blue, to clearly indicate that they are separate from the repeating pattern. I'll use en-dashes for purl stitches and blank squares for knit stitches.

Once the first row is completed, select it and either copy and paste it into the other 5 rows of the chart or use the auto fill option to drag the style and contents. Again, you can see previous tutorials for info on this step.
---
Once you've got the foundation of your chart built, select the left two cells of your cable.

Selected cells are highlighted in yellow, above.
---
Press CMND+1 (mac) or CTRL+1 (pc) to bring up the FORMAT CELL dialog box.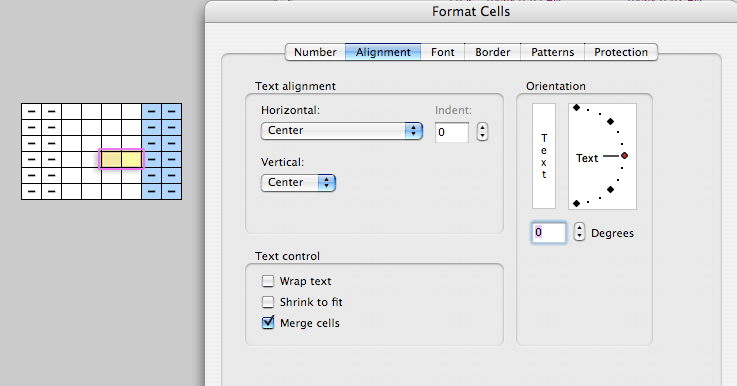 The FORMAT CELLS dialog box has several tabs. Make sure your window looks similar to this.
In the ALIGNMENT tab, click the MERGE CELLS box. This turns those two cells into one wide cell.
---
Next, go to the BORDER tab in the same dialog box.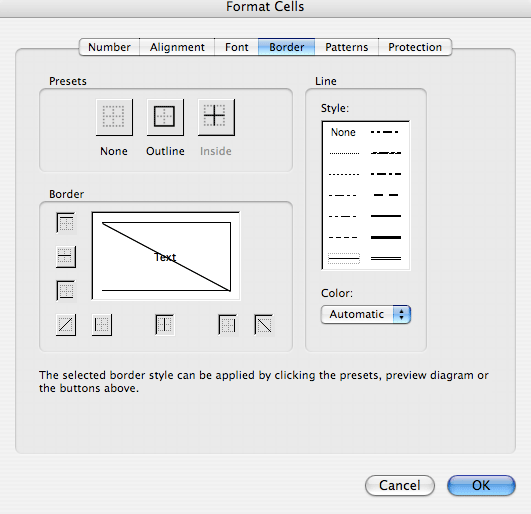 In the BORDER tab, apply a border to the top, right, bottom and diagonal of those two merged cells.
Click OK
---
Copy and paste those two merged cells into the two cells to the left.

---
You are almost there. The only problem is the border between the two halves of the cable.

---
Keeping those left two cells selected (they are now merged into one,) go back to the FORMAT CELLS dialog box by typing CMND or CTRL+1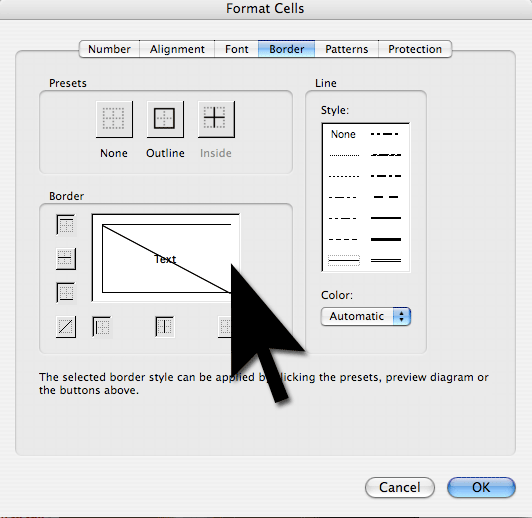 Turn off the border on the right hand side of the cell.
---
The first cable is completed. Now repeat the process for the next cable row, making sure you reverse the diagonal lines. You can either do this just as you did the first row, or copy and paste and adjust the borders as needed.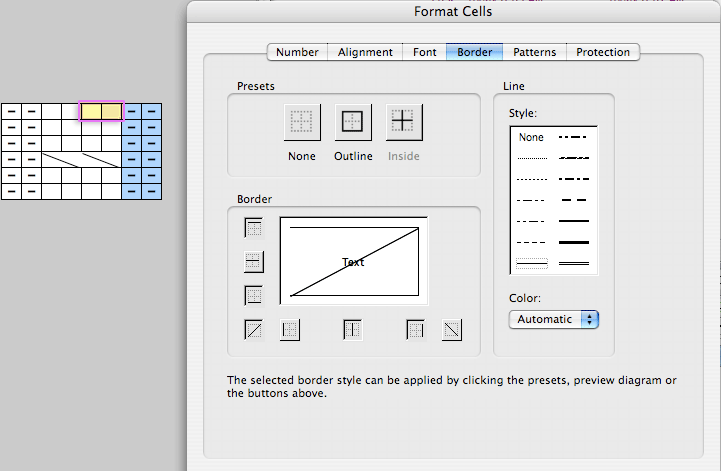 ---
Perfect!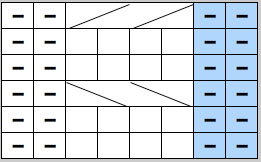 ---
Other sorts of cables can be done in Excel too. If you are working on a twisted stitch design, you'll need to cross two stitches instead of four. Set up your foundation as you did before, then, wherever you plan to put the cable, select the stitches and go to your FORMAT CELLS dialog box. Don't merge the cells, just head on over to your BORDERS tab.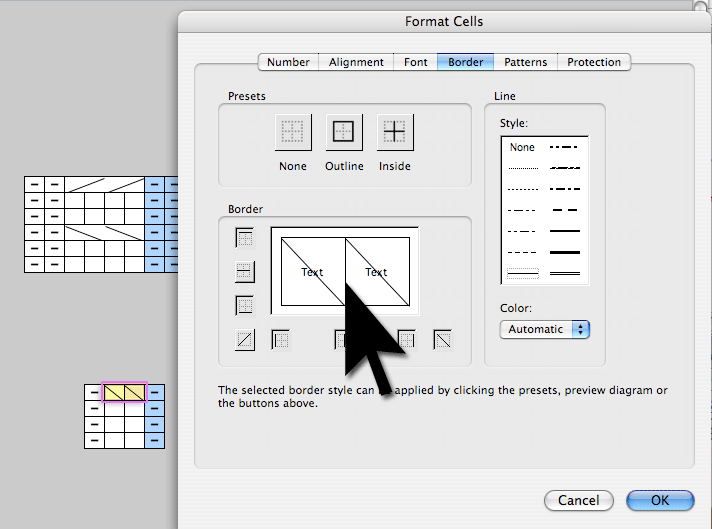 Turn on your top, bottom, left, right and diagonal borders, but turn off the border between cells.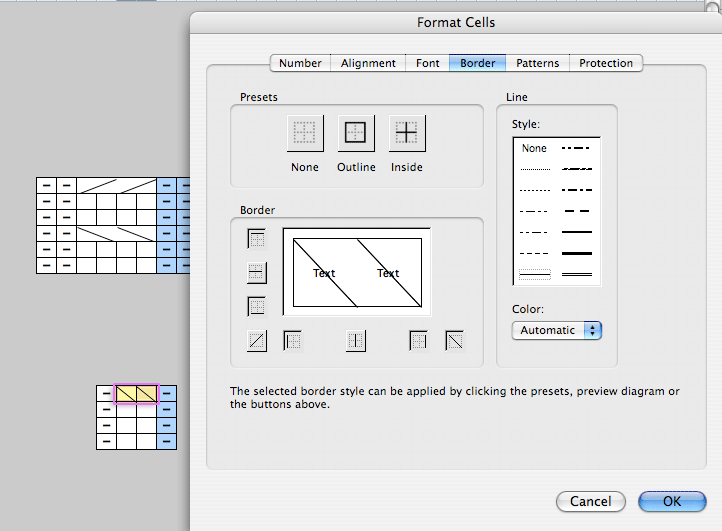 Your borders will look like this.
---
And this is what you end up with.

---
Cables don't have to be over even numbers, either. Here's how you'd do a cable that crosses two stitches over one.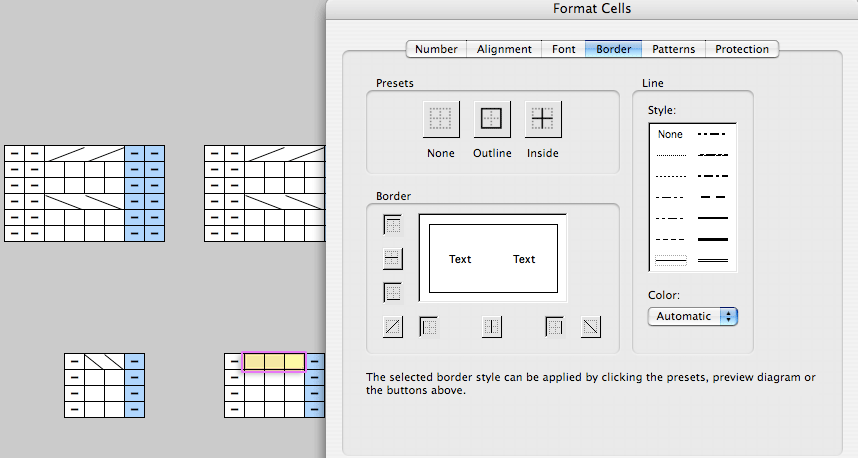 Set up your foundation and select the three cells that make up your cable cross. Go to your borders and turn off the border between cells, so it looks like the picture above.
Click OK
---
Click on the leftmost cell of the cable cross. Holding CMND (mac) or CTRL (pc) click on the rightmost cell of the cable cross.

Go back to your FORMAT CELLS dialog box.
---
Add the diagonal border to these two cells. Click OK.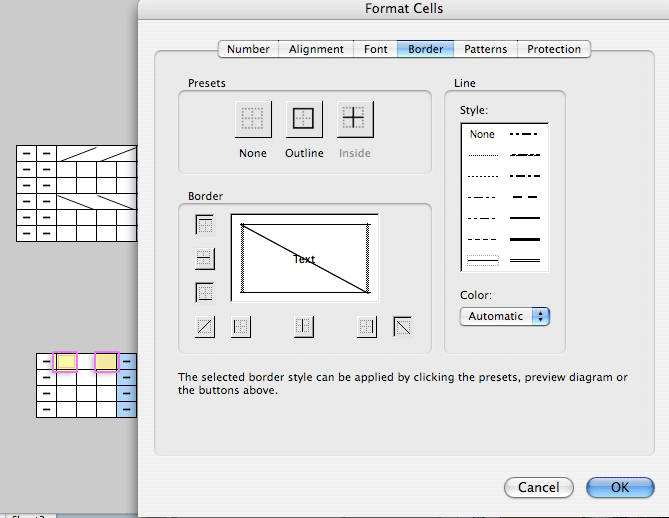 ---
And this is what you get. As you can see, it clearly indicates that two stitches are crossed in front of one stitch. Nifty.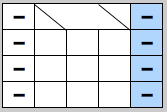 ---
There are quite a lot of cables you can create and different ways you can format the cables to make them easier to decipher. Try adding a heavier border or a border of a different color, if you think it will better convey your intentions.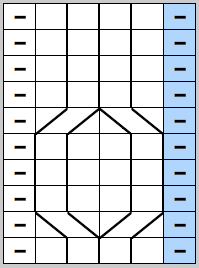 ---
I've uploaded the original Excel spreadsheet, so you can play with it. Download it by clicking here or clicking the picture below.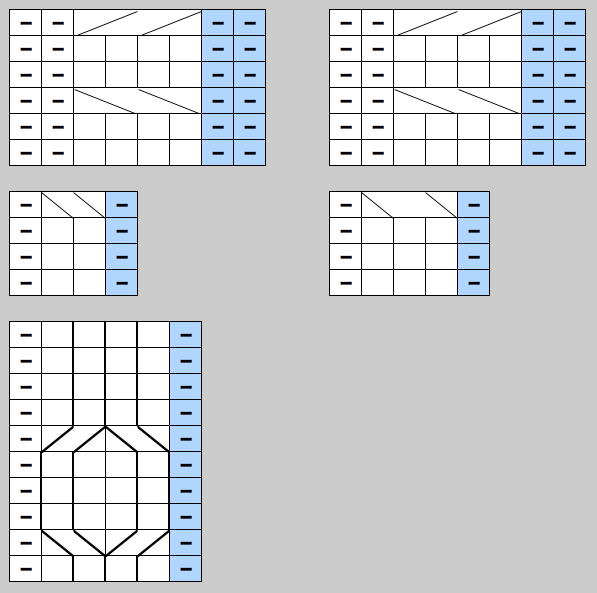 All the cells on the spreadsheet are gray unless you put content in them. Add a new cell by placing a space in any gray cell. The cell will turn white. You can see more about that here.