I love long weekends
Given my druthers, I'd gladly work 3 - 13 hour days a week to have 4 day weekends. Alas, that probably isn't going to happen for me so I'll just have to enjoy the long weekends bestowed upon us by federal holidays.
Leo's sweater is nearing the finish line. All the big pieces are done and assembled. It's still damp here and in need of some final blocking. The wash was just to get all the commuter grime off of it, but I'll do a proper steam block when it's dry. It'd probably be better to wet block it, since it's already wet and all, but I'm a strange girl.
This is the back view. The front is largely the same but the neck is a little lower.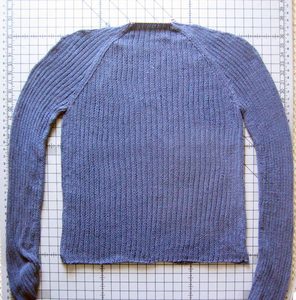 While I'm waiting for the sweater to dry so I can start the neck, I've been knitting some socks. I'm one of those people who is more than happy to knit on DPNs. I have absolutely no aversion to them and find that socks zip along just merrily on them. However, I have some concern that I may not be able to take metal DPNs on the plane with me to India (nationally, it's not a problem, but internationally, there may be some issues). So I'm attempting the socks on two circulars method.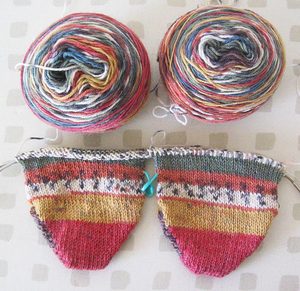 I have to admit, I don't care for it. To me, this method is slow and clumsy. I've improved the process for myself by clipping the two socks together, which resolves some of the issues I had with the socks constantly migrating away from each other and increasing the time it takes to go from knitting one sock to the other.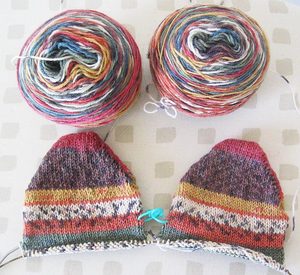 Even though I really do not like this method, now, I feel obligated to try to knit a whole pair in this manner. It may simply be a matter of acclimating to the technique. Even so, I'm not sure why this method is so popular amongst the DPN averse. In truth, the circulars simply act as two very long DPNs, so I'd think anyone who could master this technique, could certainly master the use of DPNs.
Ok, I'm off my soapbox here. It's true that there are merits to being able to knit two socks at once, and the circulars fold up more compactly than DPNs, so I still feel this endeavor is worthwhile.
I'm not sure what the yarn is, I've long lost the label. It looks a lot like Opal but it's not, it's some other, less known, self striping sock yarn.
You may have noticed that the underside is slightly different than the top, at least down at the toes. This is because I worked a short row toe, so I started from the ball of the foot, working flat to the toe then back down to the top of the foot before joining in the round. Personally, I prefer the idea of a bright red toe, so that's going to be the top.