My spinning's getting a little worsted
Ah, my beautiful new spindle!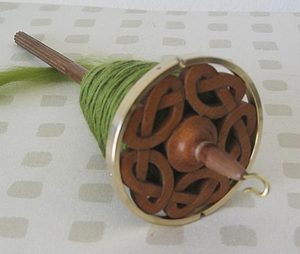 One of the reasons I asked for a heavier spindle for my birthday was because I wanted to start spinning different weights of yarn. Of course, any of my lighter spindles can be used to spin chunkier yarn, but I think the extra weight is helpful. So, after practicing with some spare merino, I pulled out my gorgeous olive green Corriedale and I tried spinning some thicker yarn.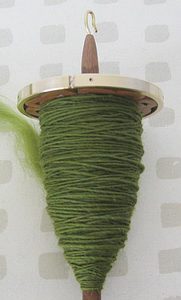 The singles are about a DK weight, it's much thicker than I usually spin, but by the end, I was getting pretty consistent results. Since I use the Andean Plying method, my most even bits are plied against my most inconsistent bits so the overall effect doesn't look so great, but I can live with that.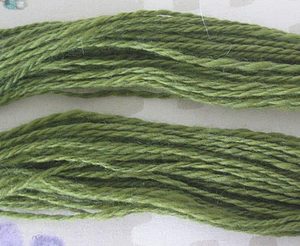 When plied, I got something around a worsted or a little thicker weight. Actually, fresh off the spindle, it was more of a chunky or bulky weight, there was a lot of loft, but having washed and hung the yarn, I've still kept a bit of loft, but the yarn is closer to worsted in weight. I still love the finer weight yarns I've spun, but it's good to practice spinning a bit thicker.
As for the spindle, it's working beautifully. A couple people asked if I had noticed a wobble or any other problems, and I have not. This is a beautifully balanced spindle that gets enough momentum to keep spinning and spinning. I would guess that people who have had problems may be using a design without as much symmetry, which could throw the balance off a bit. That's just my guess.
Under Category: Green Corriedale , Under Category: spinning