A friend of mine is due, any day now, to have a baby. She has a great affinity for Invader Zim and a really quirky sense of humor. She doesn't seem like someone who'd be likely to be content with run of the mill toys and garments for babies. I decided I had to come up with something that no one else would be able to get her.
So I found some green Calmer, and some left over black cotton yarn. I picked up a little bit of felt and I went to town.
Thus was born a little Gir.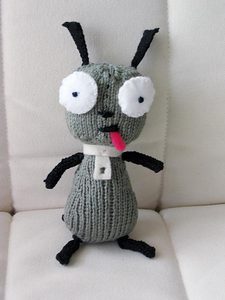 And for scale, here he is in front of some knitting needles.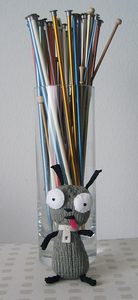 I know he's not a perfect match but I have to admit to being happy with him nonetheless. He'll be popped in the mail tomorrow to go to his new home.
Share this post