Also known as "Curses Foiled Again".
This is the second sweater I've knit for Leo and neither have, yet, resulted in the end of our relationship. I will spare you my diatribe on the boyfriend sweater myth, because I'm simply too pleased to have this off the needles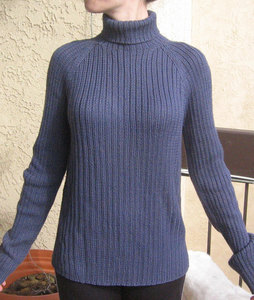 I hope to have a properly modeled version of this for you soon. For now, you'll have to settle for it on me (and slightly rumpled).
Pattern notes after the bump.
Pattern: The Big Four-Oh
Designed by: Me! Pattern will be available at some point.
Yarn: Debbie Bliss Baby Cashmerino Approximately 550 grams (11 skeins)
Color: Blue/Grey
Needles: US #4 and US #2
Description: Men's size 42" chest, ribbed sweater, straight to the hip, extra long arms, mock turtleneck with separate full turtleneck. Raglan sleeve with additional shoulder raglan.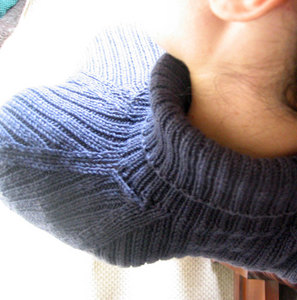 You can see the full progress of this piece, buy going here.
Final Thoughts: Knitting a piece this size on US#4 needles in ribbing, is not for the faint of heart. I wouldn't do this for commission, only for love, but having done so, it was totally worth it. Leo is happy with the weight, drape and look of the piece and I am happy with the way the shoulder raglan modified the fit of the piece. I definitely see myself using that detail in future designs.
Share this post