I've actually been working on this piece, in dribs and drabs, for a while now. It's not that I'm not enjoying the process, I really love the yarn and the idea I have, I hope, will be great. It'll have princess seams and waist shaping, all things that I think look lovely. I've just had so much else going on that it hasn't been a project I could really give the proper focus to, so I knit a row here and there and put it down for a little while.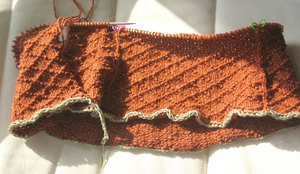 One thing you'll find about me and my knitting is that I knit almost everything with a provisional cast on, and this project is no exception. I feel like it gives me a lot more options. I can always cast it off normally, if it turns out I don't need those stitches.
Now that most of my worldly goods are in Portland, I'm sans ball winder (until the gracious Ms Julia takes me in on the 15th) so I'm reduced to winding my own center pull balls.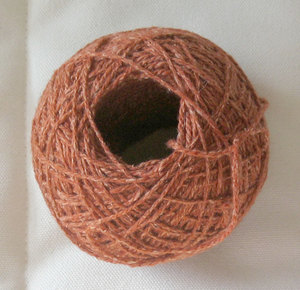 I use an empty prescription pill bottle. If you want to try this at home, look for one that is fairly tall. Circumference doesn't make a huge difference. Tuck one end of the yarn in the container. Close the container to secure the end then wind as though using a Nostepinne. When you are done, open the bottle and slide off your center pull ball. It's not as convenient as a ball winder, but it works in a pinch.
In move news, Leo and Panda are doing very well in our new home in Oregon. He's already emptied the whole truck by himself.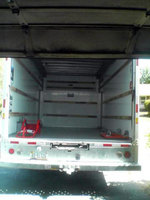 And Panda has taken to the place like a fish to water. She hung out by our giant tree: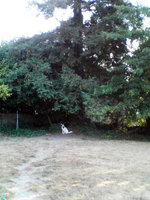 And watches our neighbors from a choice vantage point.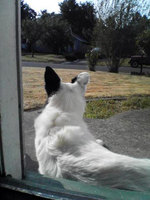 It appears that our lawn could do with some tending, but we'll get to that when we can. For now, I'm just happy to know that everyone is home safe and sound. Pity party is still in overtime but it's winding down a bit.
Share this post