Leo, Panda and I went to the beach this weekend. The coast is usually a safe bet for us because it's generally beautiful and Panda loves it.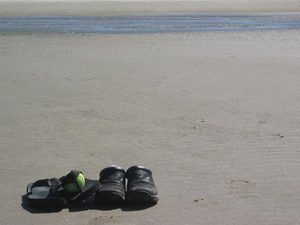 Even our shoes seem happy at the beach
Leo had explored the Oregon coast a bit before and when he had, it had been beautiful but exceedingly cold. He suggested lots of layers. So we threw on some warm clothing and headed out for a quick half-day trip to the ocean.
Read all about it after the bump.
Driving to the beach was a relatively quick and simply lovely route through a scenic area of Oregon. The temperature stayed mild and it was early still. As soon as Panda realized where we were, she perked up. This is her playground.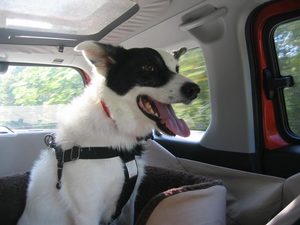 Oh boy oh boy, let me out!
The walk to the shore line is a long one across soft sand. Panda really couldn't wait to get to the beach before she was ready to start playing fetch.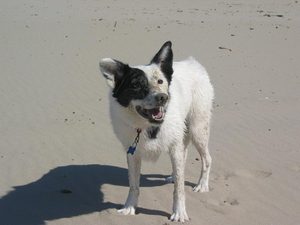 Panda eats her own dust.
But it was worth all the slogging because Panda had herself a darn good game of fetch.
You would think she'd get bored of this after a while, but she never does.
For those of us not actively involved in the fetching, it was all about the sight seeing.
I'm really taken by the texture of the sand.
How much fun would it be to ride horses on this beach?
While I snapped photos, Leo and Panda continued to play.
Oops, maybe Leo threw a little too hard.
And with such great tide pool all around, we were even able to see the stars!
Haven't we met before?
The day was so beautiful and the fetch was so fun that we ended up staying longer than expected. In fact, while I had put on sunblock before leaving the house, I had done so thinking I would have kept my turtleneck on. I know have a rather amusing red ring around my collar. I'll spare you the pictures. You can take my word for it.
From there, Leo told me of a wonderful little town with cafes that offered wine tasting. We were going to take a quick trip over for lunch before heading home and getting ready to go into the city for the evening.
So we drove.
And then we drove some more.
And then more still.
There might have been some playful poking fun and some promises that the destination was "just up ahead."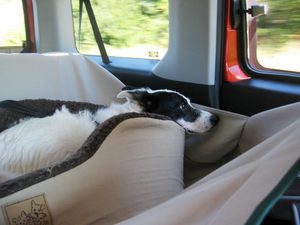 The natives are getting restless. Are we there yet?
Finally, 3 hours later, we reach our destination, only to find there is not a single outdoor cafe to which Panda could have gone and it was simply too hot to keep her in the car. We found some food to go, and made the long journey home.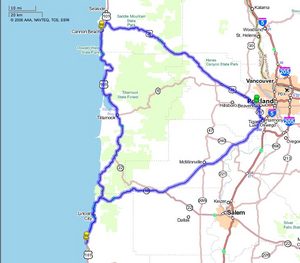 Our route for the day.

I guess in the scheme of things 270 miles is a quick day trip compared to the 1200 mile drive we just did up to Oregon from LA.
So I've seen Crater Lake and the cost here in Oregon and it's more than I could have hoped. Despite getting off track a bit, the route to a dog friendly beach in Oregon is no further for us than it was in LA, or if it is further, the roads are far less congested.
Up next, I tell you about my ebay win.
Share this post