So I didn't get to go to San Francisco this weekend. It's sad, but Leo and I were not going to let the weekend go to waste. On Friday, we met up with the bi-weekly Restaurant Roulette group to try an Ethiopian restaurant named Queen of Sheba. The food was delicious, the atmosphere; not so much. But, if you forgo any drinks, you can eat for about $10 a person and be pretty full. It's communal finger food, so bring someone whose cooties you don't mind getting or already have.
After a long week of working, Leo and I didn't make it out after dinner. We headed home and hit the sack. I've started a new book *sigh,* it is wonderful. If you are one of the 3 people who hasn't read it yet, pick it up. I'm supplementing this with some nonfiction, or a reasonable facsimile. With topics like String Theory and Quantum Mechanics, we move into the realm of scientific philosophy, which may or may not be classified as nonfiction. Feel free to let loose with your own thoughts on the topic.
On Saturday, we hit our favorite little hippy bar for some live music, good munchies and a pint.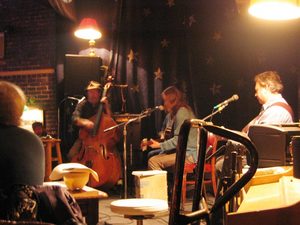 Someone offered to take our picture for us and told me to do something silly.
So I did.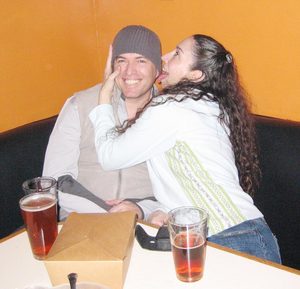 But lest you think I'm a face licking freak, I do have proof of my better behavior, or as itty bitty Marnie would have said "I am being ha(i)ve!"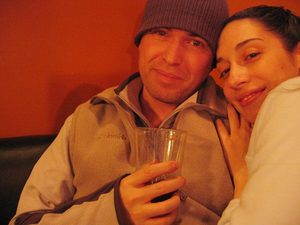 But let me tell you, for all the excitement of coming home to see the ones I love, I'm embarrassed to admit how exceedingly excited I was to get this.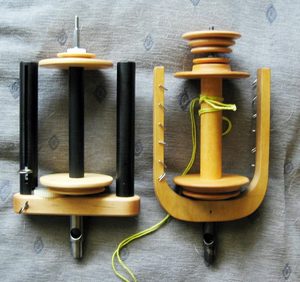 That's right, it's a WooLee Winder, in the flesh...er...timber.
There was a slow start with my new toy. You see, the WooLee Winder works by way of a pair of gears; one on the bobbin and the other on the flyer. The two must engage in order to wind the yarn onto the bobbin. The whorls I have for El Matchador, appear to be hand machined and while they fit just fine for the purposes of general spinning, they leave a bit of a gap between the bobbin and whorl that causes the gears to barely touch and producing a noticable off balance load onto the bobbin. It's also distractingly loud. This is not a fault with the WooLee Winder. The gap was present on my old flyer as well. It looks a little something like this: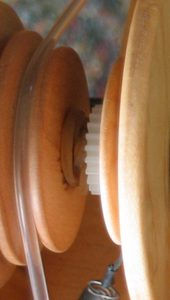 You can actually see my first attempt at filling the void, as well. It's your standard issue rubber band. OK, but not great.
After a few nearly near catastrophic attempts to make the whorl opening wide enough to properly fit the flyer, I decided it was best I come at this from another angle. I'm not sure how many of you have read my two part series on stitch markers (if you are suffering from insomnia, this may be just the ticket!) but I've found yet another use for some of my most favorite stitch markers.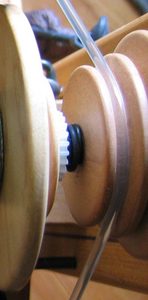 With three of my black rubber stitch markers, the whole system works like a dream. I have to apply a lot more tension with the break to get the bobbin to take up any yarn, but it sure beats trying to re-machine my whorls with a screwdriver and hammer. SHHHH! I know it was a bad idea, just be glad I'm not showing a broken whorl in this post.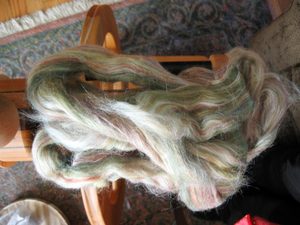 I've been spinning some of my beautiful silk/merino blend that I picked up at Stitches West. The overall color is a soft sage green but spun very fine, the other colors really shine through.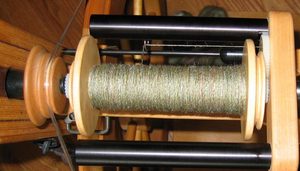 The overall effect is still a soft green but more neutralized, with flecks of red and yellow glimmering through. It's hard to get a really great picture of the yarn that shows the color, but it's lovely indeed.
I haven't had a lot of luck working with these types of vertical color blends in the past, it always seemed like the color changed too abruptly and never looked quite right. But I think I've found a technique that normalizes the results a bit. Basically I use a fairly wide strip of roving, maybe 1/2 or 1/3 the total diameter of the roving as it comes. Then, I work the fibers into yarn by splaying them slightly and allowing the drafting zone to move right to left across the unspun roving. Does that make any sense? Perhaps I'll need to enlist my sweet Leo to help me take pictures when I'm back in Portland.
I think I'll still see some color variance from length to length of the yarn, but less so than if I had worked the fiber as I normally do — from a pencil sized diameter of roving — which would have given far more variance from section to section.
Ok, this is about as rambling and disjointed as any post I've made in recent history, so I'll sign off for now.
Share this post