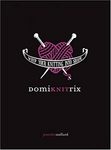 One of the perks of being a guest on Knitty Gritty, is the opportunity to meet those knitters and bloggers whose work you've admired but whom you've never met. Getting to meet the DomiKNITrix herself, Jennifer Stafford, was no exception. To know her work is to appreciate it, even if her style is not to your taste. From the sculptural horns of her Devil Hat to the, thoughtful detailing in her Little Red Riding Hoodie, you see her flair for shaping. With her, now ubiquitous, skull chart, or the variations of her Elfin Goth, you can appreciate her attention to detail. So when Jennifer asked if I'd review her new book, there was simply no hesitation.
The review will appear over two blog posts. Today, I have a the results of a questionnaire I sent Jennifer. The next post will be my review of the book.
Part I, in its entirety is after the jump.
MM: Thanks so much for agreeing to an interview and congratulations on your book.
As you discuss in your book, your first love was sewing and for years you designed and sewed your own clothing. It appears to me that you tend to stay away from the whole idea of prêt-a-porter, opting instead for custom fit, every time. How did this impact your thinking while designing for the book?
JS: I knit to fit, so I had to study, measure and count stitches on my finished sweaters and then have them drafted into five sizes, then measure and count some more in order to offer patterns to others.

I noticed that when people complimented my knitwear, it was the darts, the lean close fit that they were into. So I figured I owed it to them to be sure I put that trim fit into the book. There are SO many books out there with sweaters that have absolutely no shaping, just two squares put together with a drop sleeve or whatever. I knew I didn't even need to go there.

I wanted to include more guidelines on where to alter the pattern for custom fit, like you find on sewing patterns, that alteration line, but time really didn't permit that. I have done that in the Slink, and just a bit in Elfin Bride pattern, since I figure not everyone wants the cuffs to fall over their hands. But I would hope to be able to do more of that in future patterns, and to offer more sizes.
MM: What has been the greatest challenge for you as you migrated from sewn to knit design? What has been most liberating about the process?
JS: Well, I need to stop hoarding fabric, for a start! I haven't touched my sewing machines for anything but mending in so long; sewing is like my abandoned best friend.

The nice thing about sewing is that when you make something a little too large, you can just go around and re-stitch each seam to make the garment a little tighter. Too small, rip out the seam and insert a strip of fabric to broaden it.

I use similar techniques to salvage a knitting project with fit problems. Steeking is one good way to rescue a project, like the Herringbones sweater you see on my site.

So here's a fit tip. Tighten up top-down or bottom-up items knit in stockinette like this: find a column of stitches which has no shaping in it, and which would make a nice accent if it were a style line; drop that stitch down to the cast on row and then pick it up as purl, which draws in the fabric the same as one stitch width.

I think what I love most is that I can just sit down with my materials, not do a lot of planning, and just design right there on the needles. The hard part about this is recognizing when the piece is finished.
"I noticed that when people complimented my knitwear, it was the darts, the lean close fit that they were into"
MM: In my experience, most people fall along a spectrum of perfectionism, from so severe as to stymie all progress, to so indifferent the results are nearly unrecognizable. Your book leans towards the former (though not all the way, of course). What sort of recommendations would you offer to someone who shares your perfectionist attitude but can't seem to get results sufficient to allow them to complete a project?
I like to keep several projects going at once, since I never know when the inspiration is going to run dry. Often I hit a technical snag and need to back-burner the project for a few weeks or even months before I come back at it with a fresh perspective, or armed with a new trick I learned from a book or magazine.

I always try to stall a big rip for at least a few days to be sure I can't come up with a surgical method to fix the problem. Knit smarter, eh? If I can separate the good work from the bad and graft it back together after correcting the problem, or ladder down several stitches for a few inches to fix increases or details in the wrong spot, I would really prefer to do that rather than ripping the perfectly good stitches I knit after the mistake.

If you're going to tear out a lot of work, check in with another knitter to see if the problem is really as noticeable as you think it is. The creator's lens can be a bit distorted, so feedback from others can save a lot of stitches.

One really key thing is re-tensioning the stitches AFTER the piece is done. I've known knitters who ripped big sections because they weren't happy with their tension. What a waste! It's so much easier to tease the extra yarn from the loose stitch into the neighboring stitches around it than to re-knit the work.
MM: What are you tools for designing? Do you have anything high tech, such as a design program or excel or are you more of an abacus, stone and chisel kind of person?
JS: Well, when I want to use a chart, I reach for DesignaKnit. I had reviewed some pattern-making software last year while writing the book and decided to tough it out. In retrospect, if I'd understood then that pattern conventions are OK with doing different operations "AT THE SAME TIME", that could have saved me a lot of time. Some knitters had told me they hated that, and "Repeat row x", so I'd written the instructions out in extreme detail which turned out to be a lot of work for the tech editors. Now I know!

But really, I most love to design on the needles, just cast on with a general idea of garment type and just see what happens. That way I have time with the yarn to see what it wants to be when it grows up. So as much as you might think I'm a control freak from the name I took, I really like to let the materials drive the process. The more I design organically, the more clearly I can see what the yarn wants to be, but in the beginning, there were whole sweaters that were re-knit more than once because I just couldn't hear what the yarn was saying at first, or I let my own desire run the process.

So I don't really start counting stitches and doing the math until it's time to size the garment, and really, that's bass-ackwards as my Grandma would say. It was a lot of work to reverse-engineer my finished garments so I could make the patterns in the book, and I wouldn't' recommend this to anyone who wanted to design sweaters. It's very inefficient!
MM: Most of us design for what we think looks best on our own bodies. I bet there are quite a few readers of my blog who have similar fitting concerns to your own. What is your body type and how do you best flatter it?
JS: Well, I'm a tall girl. Long-limbed sounds great and all, but it was a problem needing clothes an inch longer at the hem and cuff, and one of the big reasons I got started making my own clothes. And I'm stacked. I'm not complaining about that, but certain styles look great on waifs, and not so hot (or, ummm, too hot) on curvy girls. So I stay AWAY from all those empire-waisted babydoll styles; they are for the waifs and make us boob-tastic gals look pregnant or fat.

So I started tweaking sewing patterns to add length, repositioning buttons to avoid the gap problem. Eventually I gave up entirely on buttons and got way into zippers.

When I wore looser clothes in fashion at certain times, I discovered that they just made me look fat. So I started going for the trim fit. Even if you are a little self conscious about a bulge somewhere, I promise you are going to look more attractive overall if you wear well-fitted clothing. Women are so overly critical of themselves, we often go hide in loose clothing, but it just makes us look worse. It's important to find that part of yourself that you think rocks - everybody has one - and then choose your clothes, hair, make-up, boots, whatever … to highlight that asset. I think that if you've got it you should flaunt it (whatever it is!), and just because you are married or have kids doesn't mean you should agree to disappear into the background.
MM: Many of your designs are revealing and form fitting. Do you have any recommendations for people who like to show a little less skin but still love the aesthetic of your designs?
JS: Any design can easily be knit a little longer, and even the neck of the Elfin Bride and Gothlet (very challenging designs to modify) can be built up higher.

The bralet, well, I meant that to be the basis for a longer waisted top, and long sleeves for the Slink, but I just didn't have the time to knit all those stitches. I'd also meant to provide a variation on the Diva halter which was not a halter, but a sleeveless vest instead, but again, no time. I'd like to offer those variations for sale at some point in the future, since most women don't like sleeveless, and if you've got more than a B cup, you'll want more support than a halter bra is going to give under the Diva.
MM: Having read your site for several years, I've seen a couple of your designs showcased before the book. Elfin Goth has always been a favorite of mine and it is shown beautifully in this book. Since there is nary a horizontal row in the piece, how on earth did you manage to resize it?
JS: Well, it was far more work to do that I think I had ever imagined. I started by giving the finished green prototype to a seamstress and having her make a flat sewing style pattern from it, then grade that into sizes XS-XL. Then I used that to extrapolate the different number of stitches needed in each area per size. It was challenging because my seamstress wasn't really thinking of the limitations of the knit stitch when she did that, so she had put sizing in areas where it just wasn't practical. For example, the center back and tail section is so elaborate that it needed to be the same for all sizes. I wasted a lot of time trying to size that section. Once I realized she'd left the side pieces the same for all sizes, I just moved the sizing into the side instead and everything started to fall into place.

Row gauge was a huge issue on this project, since I was working with my good friend Miriam Tegels, recently crowned World's Fastest Knitter, and her row gauge was about 5 more than mine over 4 inches. That made the difference of two sizes in the finished garment! So if she and I knit the same pattern, mine would turn out size L, while hers would be size S! Once we tumbled to the row gauge difference, it was like I'd found the Rosetta stone. So you'll find this odd alternative row gauge provided in the pattern. I did that so Miriam and I could get the knitting done and release the pattern in a reasonable time frame, like really soon!! We have success with the size XL and XS I'm knitting is half done, other sample knitters in various stages of knitting the final pattern. I'm so excited about finishing it!

"The book offer came out of the blue when I was only selling one pattern - it was the techniques that sold them on my book."
MM: I would suspect that you will someday want to take on something even more audacious than Elfin. Where do you see yourself going next?
JS: Right now I'm still pretty spun from the book process and finishing up Elfin, but my recent trip to TNNA got my creative juices flowing again, and wrapping up Elfin has also freed up my mind for other things. So I'm hoping some yarn companies throw some free yarn my way so I can play again! I think I really need to rest up a bit and see how the knitting world reacts to the book before I really know what's next for me.
MM: Referring specifically to garments, do you often knit standard wardrobe pieces or do you primarily knit pieces in which function follows form?
JS: I roam between the two. When I got started, I was knitting more for process and turned out a few sweaters that were fun to knit, but not very wearable. I feel a loss if I can't wear the finished object proudly, so I shifted my focus to the fashion perspective and started turning out tailored items to fill the holes I found in my own wardrobe. That's where the City Coat and Hoodie came from. Then of course, there is the Elfin Bride you find in the book, a totally process driven garment that turned out to be pretty wearable, thanks to the countless stitches I ripped before the yarn found its way. The Goth was a luxurious diversion and I was not assured of success.
MM: How often and for what occasions do you wear your knit garments?
JS: Well, the basics I reach for anytime I'm cold, but the Goths and skimpier items only come out for special occasions, like holiday events and knitting shows.
MM: Describe your most perfect yarn. What would the gauge, make up and style be?
JS: Hmmm, if we are talking fantasy yarn, not bound by the laws of physics, I wish it could have a huge gauge, but make a very flat fabric. I love the weight of fine yarns, but making all those stitches hurts, so I cleave to the bulky. I adore merino wool, and if there could be a vegan fiber as soft and stretchy for my friends who can't wear wool, that would be a godsend, especially if it weren't petroleum based.

If you mean what I can have on this earth, let's design a line of Viyella yarn. Remember that old Pendleton fabric made of merino wool and long staple cotton? Soft hand, smooth drape. I would want it in solids and tweeds, in the classic colors: navy, gray, black, white, cream, camel, brown, red and a few muted jewel tones like magenta, mustard, sapphire, emerald, and I always need a couple shades of olive green in my wardrobe. Start me off with bulky and take it on down to DK weight so I can knit my entire fashion line. Then dupe the same yarn line in the same fine cotton with microfiber or tencel for the vegans. Ooh, maybe I should email them!
MM: How long have you been an online presence?
JS: I claimed the domiKNITrix domain in Spring of 2004.
MM: How has your website contributed to getting you where you are today?
JS: The book offer was a direct result of my presence online. Tricia Waddell, then at F&W Publications (now at Interweave Knits) found my site when googling for mattress seam technique. She devoured it and called me about making a book. I'm grateful that Ethan had optimized the site for search a couple months before that, and domiKNITrix was the very first site that came up on search for Mattress stitch. I'd always thought that if I just put it out there, someone would eventually notice that what I was doing was special. I'm happy to report that it worked!
MM: Many independent designers, who have progress to the level of writing a book, have started by publishing patterns in online and/or print magazines. You, however, have not. Before writing the book, most or all of your designs were either for personal use or sold directly from your site. Can you speak to your thoughts on this? What challenges does this introduce and what are the benefits? Is this just how a DomiKNITrix rolls?
JS: The book offer came out of the blue when I was only selling one pattern - it was the techniques that sold them on my book. I had no time, so it was like: "I know kung fu" when I started making 5 patterns at a time after only making a handful for myself before, and those were little more than a haze of notes. It was like a log jam in my brain trying to figure out how to document the work while creating it. But it's much easier for me after powering through 20 in less than a year.

Having 20 patterns edited for the first time is NOT when you want to find out about these conventions. My tech editors were miserable. I would urge anyone thinking about making knitting patterns to ramp up slowly and study knitting patterns in books and magazines to get the feel for what's expected. The way you write a pattern for the 'net and the way you do it for print are very different indeed. There are no extra pages or drops of ink for the charm we find in those PDF patterns. Now that I know what's expected, I'm all over that, but I would have preferred to learn it gradually, with less blood, sweat, and tears.
MM: You seem to really value technique. I suspect you have a pretty expansive library of knitting books. Which do you use most often and why?
JS: For general how-to, Montse Stanley's Knitter's Handbook is high on my list, because I find it has the most comprehensive catalog of techniques portrayed most clearly and it helped me to understand knit fabric and special cast-ons better than any other. I also really love Debbie New's Unexpected Knitting for its intelligent approach.

But the Barbara Walker books are the ones that spend the least time on the shelf. I reckon I would love any of the modern color stitch dictionaries just as much, just haven't got any of those yet.

A big part of my library is Vogue Knitting and Interweave Knits magazines going back to 1995, and I look to them when trying to open up my mind while working with a new yarn. I also tear out any fashion page that has something I like and flip through the 'collection' when imagining a new design. A barrage of different styles can really get me thinking!
MM: Thank you again and best of luck with the book.
Stay tuned for the next post where I will review the book.
Share this post