Note: Joan has graciously sent me feedback on this review and I have included her comments. You'll find them throughout the review in green italics.
Introduction
When I first saw the cover of Knitting Lingerie Style, floating around that interwebby thing, I knew that regardless of whatever else was in that book, I had to have it. The cover piece is just amazing. Everything about the garment is perfectly structured. How did she do it? I had to know. The book was available for pre-order, a while back and I didn't waste any time in ordering it.
Over the past couple of years, I had noticed McGowan-Michael showing up in more and more places, including Knitty Gritty and Vogue Knitting, and yet, despite how impressed I've been with any of her work I've seen, I have never spent that much time really researching her as a designer.
The book arrived last week, and I set right to plonking down for a good read. Leo wholeheartedly endorsed this particular acquisition. I haven't had a chance to knit any designs yet, so I won't speak to topics such as the accuracy of the patterns or the fit, but I will pipe up with my 2¢ on anything else that comes to mind.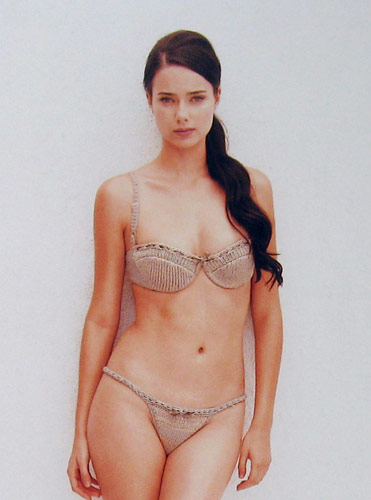 Basic Bra an Bikini set
What you get
Author Joan McGowan-Michael
Binding Hardcover
Printing Full color
Length 160 pages
Patterns 32 patterns, several consisting of multiple pieces which could be knit separately.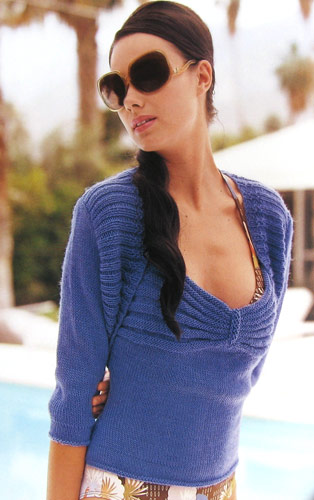 Retro Ribby
Pattern layout
Organization 6 themed sections based of a basic design concept.
Sizing Varies. Most start at around 32" for the chest. Bra style tops tend to stop around a 38" underbust with instructions up to a D cup. Some garments include instructions up to 50+ inches chest. Many fall somewhere in between.
Graphics All patterns contain very clear and professional schematics. Many pattern contain charted elements. Complicated finishing and construction steps are clearly illustrated.
Instructions Standard knitting abbreviations and plain English. Very clearly written instructions.
My impressions
I think this is a great book. I love the intros to each section that give both historical notes and comments on her inspiration, which are further elaborated at the start of each pattern. Percentage wise, I would say that there are more patterns in this book, that I think are great, than I've seen in most other books. The only book I feel equally fond of for quality and diversity is DomiKnitrix, which I reviewed a while ago. Both women show a level of creativity and skill I can only hope to aspire to, some day. When you consider the fact that, individually sold, patterns often go for $7-$12 a piece, both of these books are obviously great values, in my eyes.
That said, I'm an opinionated person and I think it's only fair to give my constructive thoughts on the book, for all that's worth. I'll discuss each major section and a few of the pieces that stood out to me. I definitely value feedback so let me know if you think my impressions are misplaced.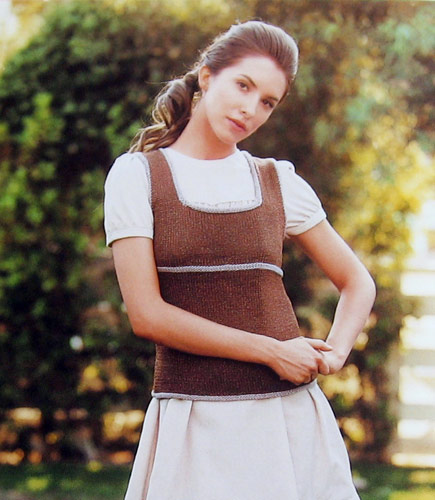 Chocolate Creme Square-Neck Top
The Bras
The first piece is a Basic Bra and Bikini Set. It's knit, as many of the most form fitting pieces are, out of Cascade Fixation. I'm not sure I can think of a better use for this yarn, which has the breathability and comfort of cotton with tons of stretch. This piece shows the same sorts of construction found on the cover piece and I couldn't wait to read through the instructions. The first thing you'll note, when reading about the finishing is that this piece requires a sewing machine. In and of itself, I don't think this is a bad thing, but the person who buys this book should be aware of this. Having released some patterns combining knit and crochet, I know that there are many uni-crafters out there and it may come as a surprise to know that you won't get by with a tapestry needle for this one.
JMM: I did actually sew the underwire bra sample by hand , so it can be done succesfully if one must, but I don't recommend it for the strength a bra needs and the wear and tear it receives. I would hate for a C-cupper to be out dancing somewhere and have her bra start springing apart!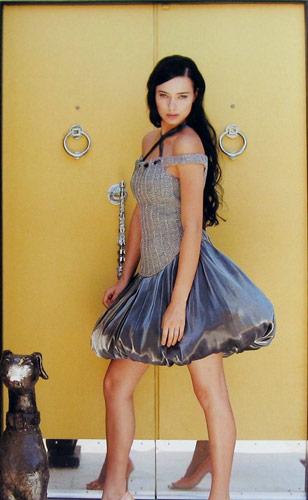 Party Dress
The second piece, Retro Ribby, appears to be too large for the model. I actually don't think it was too large, seeing as she models many other garments in this book. In fact, I think this piece is a victim of poor yarn choice. The piece is knit from an Alpaca and Tencel blend. While both fibers are lovely and soft and luscious, I think alpaca is a poor choice both for a fitted garment and for something, ostensibly, to be worn in the summer. I suspect that if this were worked in something like Rowan Calmer, it would look far more polished.
Chocolate Creme Square-Neck Top is nothing short of adorable and the story behind it just endears me to it all the more. I made a similar though less successful piece like this, several years ago, because both the square neck and empire waist are favorite design elements for me. For those of you with plenty going on "up top" make sure you note McGowan-Michael's instruction for adding short rows.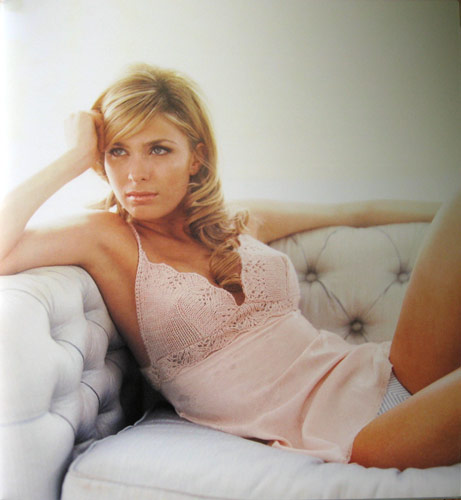 Silk Slip
The Slip
The piece most likely to jump out at anyone, from this chapter, is the Party Dress. As someone who wore a few bubble skirts in the 80s, I'm not so sure I'm willing to revisit this style. But post traumatic 80s syndrome aside, I have some questions about the wearability of this piece overall. While the knitted portion is quite cute, reminding me of Annie Modesitt's Silk Corset, I'm not sure that it's very practical to expect it to hold up such a substantial skirt . I have visions of everything migrating south, held precariously by the neck tie. I think I'd be inclined to keep the knitted portion only, add a bit more length to the upper edge and wearing the straps on my shoulders instead of off of them. It's also worth noting that the shaping is all done by means of changing needle size, so for very curvy people (such as I), you may have a hard time adjusting fit. I think you might be better off working a size too small and letting the fabric stretch to get a snug fit, or make sure you work it in a very drapy yarn. The skirt, of course, requires machine sewing, but I bet most people will stick with the top alone. To be fair, though, Julia pointed out to me that this is probably more of a show piece meant to highlight the extents to which you can take this concept. So take my comments with a grain of salt.
JMM: Yes , it would appear that the entire weight of the bubble skirt hangs from the ribbon at the neckline, but that is not the case. If you look at the finishing, you'll see that I've added 4 rows of elasticized thread (which in the dressmaking weight is quite strong) to the inside of the waist area spaced 1/2" apart. This not only takes care of supporting the weight of the skirt, it keeps the ribbing nice and tight at the waistline (even though shaping has been done by changing needle size), a crucial element of the silhouette that would be lost otherwise.
I'd like for this 'knit + sew" garment to be considered more of a jumping off point for those who are into making their own special occasion wear. It was shown with a bubble skirt, but any type of full skirt silhouette would work. Think of this with the bodice knit in a pearly silk blend with a pretty handkerchief hem skirt as perhaps a bridesmaid's gown or prom dress.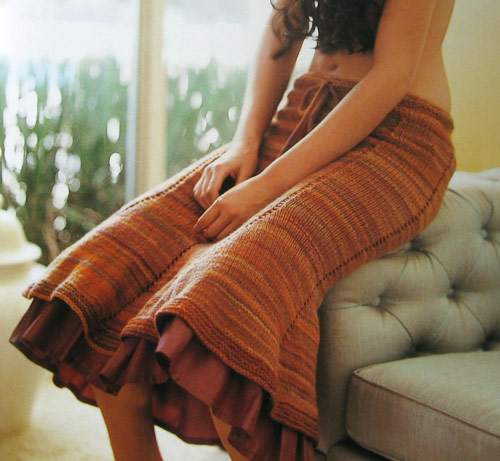 Trumpet Skirt
The Silk Slip is absolutely gorgeous, but will require substantial (though relatively easy) sewing as well. I think the intrepid knitter might be inclined to knit the bra portion and fashion their own knitted body as well.
I'm curious about the fit of the cups on this piece. The picture makes it appear that they are a little pointy. I think knitting it a bit snug and allowing yourself to fill out the cup, might reduce that effect.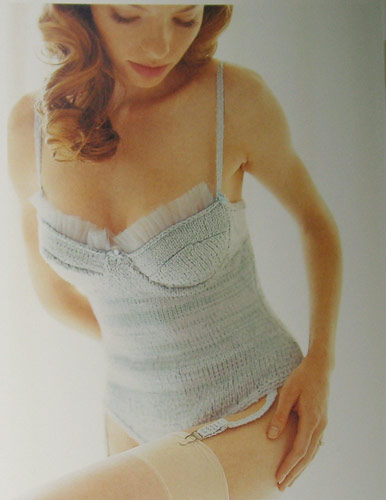 One Piece Wonder
I absolutely love the Trumpet Skirt and think it'd be a great and wearable piece. . It would be nice to see it on the model while she's standing, but as it's shown in the book, it's lovely. I do wonder if it's best worn over a skirt, as styled, just to fill it out a little.
I can't rightfully finish this chapter without discussing the One Piece Wonder, which is also the cover piece. Like the the basic bra, in the preceding chapter, this piece is a marvel of construction and simply beautiful. Cascade Fixation seems like the perfect choice for this garment and if you don't mind doing some sewing and breaking out some serious hardware (underwire anyone?) this project is bound to astound. Plus, that special someone in your life is probably going to offer to buy you a lot more yarn, if you knit something like this.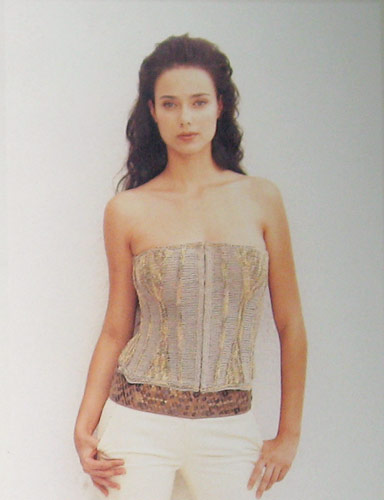 Basic Corset
The Corset
Like the Bra and One Piece Wonder, the Basic Corset takes its cue from the sewing world and incorporates elements you probably don't keep in your knitting notions bag. Even if you decide to forgo the boning, I think that a couple of straps would make this into a still very wearable piece.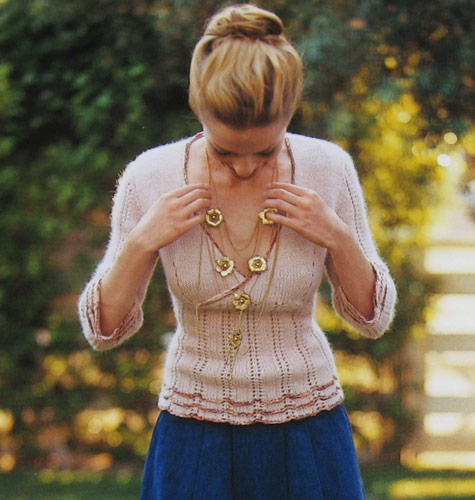 Waist-Cincher Top
The piece that really stands out for me, in this section, is the Waist-Cincher Top, which is just gorgeous. I'd be a little careful of the bust shaping which seem to be done by way of YOs. I'd probably opt for something less likely to show my undergarments, but that's so minor as to hardly need mentioning. It's just a beautiful piece.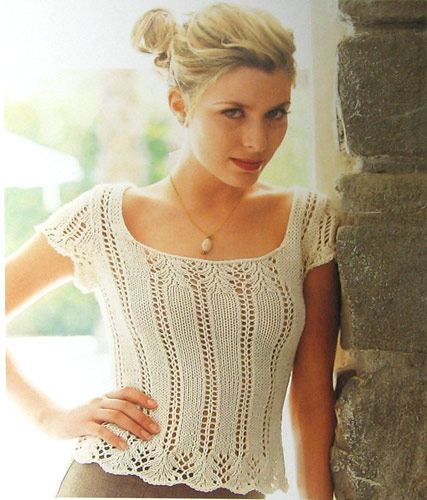 Shaped Lace Tee
The Camisole
There are several really lovely pieces in this section, but my favorite would have to be the Shaped Lace Tee. I'm not sure why it's called "shaped" since it's actually straight but it's a lovely piece with nice attention to detail. The lower lace pattern aligns beautifully with the lace that continues up the garment, and the cap sleeves have a delicate hem of lace before the sleeve cap shaping. I could see this being a great work staple to wear under my suit jackets.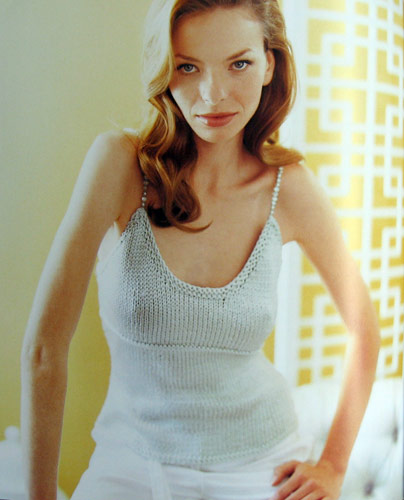 Silk and Pearls Cami
The Silk and Pearls Cami is wonderful as well. It's very wearable and a great layering piece. As I mentioned earlier, I love empire detailing. This basic design would make an excellent canvas to flex your creativity. You could add a lace hem, or work a cable up the sides (just remember to adjust the cast on to accommodate the change in gauge).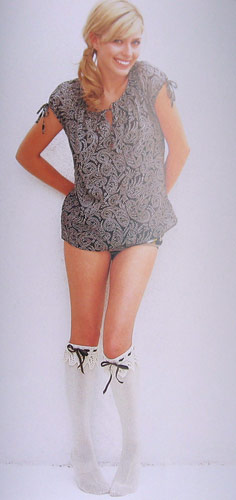 Basic Stockings
The Stockings
What could be more decadent than cashmere knee highs? Not much. The Basic Stockings are lovely and would be great with the lace flipped over a pair of knee high boots.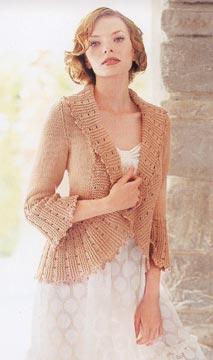 Bed Jacket
Lounge/Night Wear
For my particular preference, the only piece I really love from this section (and boy howdy, do I love it) is the Bed Jacket. I suspect that the cotton/wool blend is absolutely perfect for lounging and has just enough memory to help it hold its shape. I love the little shell button and the delicate picot edging, and the piece has enough shaping that it should suit a variety of different figures.
Conclusion
I wish it were practical to talk about every piece in the book. While you always expect to see a few piece that just aren't your style, I think there are enough great and timeless pieces in here to suit even those more picky than I. If you aren't a seamstress and/or do not have ready access to a sewing machine, think carefully ahead of time and decide if the all-knit pieces offer enough to keep you satisfied. I believe they will, but you should decide for yourself. If you are more zaftig in proportion, carefully review the sizing of the pieces you like, before you purchase this book. There are definitely a range of sizes and fits and not all pieces will be spelled out in all sizes. For some of the pieces that may seem a bit too scanty, a change in yarn or substituting increases for YOs, could be just what you need to make the piece more wearable. Many of these pieces are timeless and classic, with some fun pieces thrown in for those more daring than others.
As a side note, you can join both the
Knitting Lingerie Style KAL
and the
Yahoo Group
, if you are interested.
All photographs in this post are copyright Thayer Allyson Gowdy and are used here for editorial purposes only.
Share this post