I'm Donna's 23rd stop on her tireless blog tour. Here's hoping she's collected a good number miles in the process, and didn't get stuck in a middle seat.
Donna has tech edited both of my Stitch Diva Studios patterns and has impressed me with her abilities to distill my aimless ramblings into a concise and friendly format, while still having a keen eye for detail. All of these qualities shine through in her new book, Ethnic Knitting: Discovery: The Netherlands, Denmark, Norway, and The Andes, which offers a technically sound and yet beautifully user friendly approach to designing ethnically inspired and custom fit garments. Her writing style is friendly and accessible, and she peppers the book with suggestions and tips that should benefit even seasoned knitters.
---
[MM]: Donna, thank you so much for agreeing to do this interview.

I was really excited to see that Ethnic Knitting: Discovery: The Netherlands, Denmark, Norway, and The Andes is published by the same company that publishes two of my favorite books, Spinning in the Old Way, and Knitting in the Old Way. Did you actively seek out Nomad Press or did they seek you out and, how do you think your relationship with them has driven the types of books you write?

[DD]: I stumbled onto Nomad Press about 4 years ago when I was working on a book for another publisher. I needed some help with one of the chapters, and I noticed that Deb Robson (now my editor) was also a writing coach, so I hired her to help me finish my chapter for the other book. We enjoyed working together and so I approached Deb when I started working on Arctic Lace. We decided it was a good match and we've been working together ever since. The Ethnic Knitting series was actually Deb's idea, and I'll talk more about that in the next question.
[MM]: Ethnic Knitting Discovery seems to draw on some of the same concepts as Knitting in the Old Way. And yet, seems both more focused and able to appeal to a wider range of knitters. I really like the way you offer three different ways of planning your patterns and encourage folks to be creative with their color and pattern choices. While this book should appeal to many readers, who did you envision as the most likely audience or audiences?

[DD]: Ethnic Knitting Discovery (and two more books that will follow in the future) were specifically designed to use the same concepts in Knitting in the Old Way. The main difference is that while KITOW is encyclopedic in scope, it doesn't contain any step-by-step detail in the instructions for implementing sweater designs. This is a problem for some new knitters who need a little (or a lot) more detail to help them feel confident enough to jump in and design their own sweaters. When Deb first approached me about writing these books, we discussed two main ideas: 1) We wanted to show how you can use traditional techniques to design modern, stylish garments and 2) we want to provide enough detail that even new knitters would be able to dive in and create something from scratch.
[MM]: I posted a picture of your book cover on my Flickr site and someone commented that the sweaters looked really complicated. What would you say to someone who felt intimidated by the designs?

[DD]: The sweaters on the cover are the most complicated sweaters in the book. Neither actually requires advanced skill level, but since they both have color knitting, I supposed they'd have to be classified as intermediate. I don't remember why we showed two color sweaters on the cover, but the first two project chapters in the book feature knit-and-purl sweaters that are easy skill level. Each project in the book builds upon the previous projects, starting with a scarf and ending with the Andean sweaters. In each chapter, there's also a skill-building project that lets knitters practice the techniques before starting a sweaters. The skill building projects are a scarf, a hat, a headband, and a small purse.
[MM]: You've done some traveling, in the past, to research your books. Have any of your travels contributed to this book?

[DD]: I didn't travel to any of the places I cover in this book. This book was really built on my life of knitting and my collection of knitting books. I love to learn about traditional techniques and knitting styles from around the world, so in a way I'd been preparing for this book for years.
[MM]: I first met you by way of your technical editing. It's interesting to me that despite your strong tech editing and organization skills, you prefer a more freeform approach to knitting. From your writing, it sounds like you plan as you go. Do you think this is because you have to be so detail oriented in other areas or do you think these are just two natural sides to the same coin?

[DD]: That's an interesting question. If I weren't doing it for money, I don't think I'd be very detail oriented in anything I do. I used to be much more Type-A than I am now, but as I've gotten older I've decided that it was too stressful to try to be perfect. I do have a background in technical writing and I studied computer programming in college, so I can do detail work when it's necessary. On some level I enjoy it, but not as much as I did when I was younger. Now I much prefer to be laid back in my approach to almost everything. I like the freedom of making things up as I go, but I do like to have "a plan from which to deviate." For instance, I make detailed outlines of my books before I write them, and I do sketch up a sweater, noting the dimensions and stitch counts required (at least to start the body), and I swatch all of the pattern stitches before I begin the sweater. But then I like to have some freedom to play and explore as I write the book or knit up the sweater.

[MM]: Most designers start with a concept, knit it and then write a pattern. In Ethnic Knitting Discovery, you discuss basic recipes for garments and there are drawings to illustrate how the final garment will look. What sort of challenges did you have to overcome to design this way? Are there particular pitfalls you have to look out for?

[DD]: I've been working with test knitters for quite some time now, and you have to write your pattern completely before you send the yarn to the test knitter, so I guess that process helped me learn how to map out a whole sweater concept before casting on! The basic steps to creating a sweater are always the same, so I don't think there are too many pitfalls. Mainly, in my experience, you have to be careful when you are working the upper front of the body to make sure that you like the way the motifs work around the neck shaping. But other than that, with the drop-shoulder sweaters in Ethnic Knitting Discovery, there's not too much that can go wrong!
[MM]: You and Debbie O'Neill designed two colorwork pieces for this book and there is a beautiful variant of one for the IK Holiday Edition. How did you two come up with this design? Do you find working with a partner challenging. Do you think you'll do so again?
[DD]: Debbie and I are working together on sweaters for the covers of the next two books in the series, and I'm also planning at least one other knitting book where I'll be collaborating with another author. I am not really a "team player" but I can work well with others when the project is divided up in a logical manner. I don't believe in "design by committee". For the cover sweaters on the book, I had mapped out the basic sweater construction and chosen the charts that I wanted to include in the book. Debbie and I worked together on selecting colors, along with my editor who wanted to make sure the colors we chose would work well together on a cover design. Then Debbie made some swatches to show how the combinations would work together, and I said, "This looks great, go for it!" I believe in letting experts do what they do best without interference. I love it when I can give in put on parts of my book, like the cover design or the interior layout, but for the most part I'm the kind of person who can let other people do their jobs. For all the things that I am, I don't think I'm a control freak.
[MM]: I am really interested in the way you've combined a fascination with historic techniques and more modern applications. You also have an upcoming book of designs based on Dorothy Reade's stitch patterns, which seem to appeal to that same sensibility. What draws you to this combination of old and new?
[DD]: Yes, I do love combining the old and the new. My house is filled with things that belonged to my grandparents, and I love antiques and traditions. But I don't think we should hold onto the past with a false nostalgia, nor do I think we should slavishly follow traditions that are outdated and have lost their usefulness. I also believe that the present is largely better than the past was and that the future will most likely be even better. Humanity has been maturing over the past centuries and moving more and more away from old fears, superstitions, and prejudices (with some temporary setbacks along the way), and I am somewhat optimistic that this trend will continue in the future. So I guess my tendency to combine the old and the new in my knitting is a reflection of my basic philosophy of life.
[MM]: Where do you see going from here? Do you think you want to continue to explore classic knitting techniques applied in new ways or do you see branching out into other subject matters?
[DD]: After the ethnic knitting series, I'll be doing some writing about Lithuanian knitting, and I'd like to do a book where I take photos of a bunch of things my grandmother knitted and crocheted and write patterns for updated versions of them. So I guess I'm going to continue in the same vein, at least for the foreseeable future.
[MM]: You've recently completed a book of knitting patterns for and featuring cats. Were you inspired at all by your research in Ethnic Knitting? I noticed that the section on The Andes featured a cat motif.
[DD]: That was just for fun! I was talking to an editor at another publisher about all the books of Dog Sweaters that had come out, and I said that I felt left out as a cat owner. She said, "Would a cat wear a sweater?" I had to laugh. Not mine! But what goes together better than cats and yarn? Cats love to play with yarn, and the three little kittens did have mittens. So that's how Kitty Knits was born. It was on a lark and I hope it's a lot of fun.
[MM]: I know that you share some common interests that extend beyond the knitting world, with one Ms. Barbara Walker. Both of you are active in the Skeptical/Freethinking community. How did you become active in the Skeptical community and how do you see that playing into your future as an author?
[DD]: Wow, I try not to talk about religion and politics in the same venue as knitting except on my own blog! :-) So this may seem a little vague....
Yes, Barbara Walker is a role model for me. I love how she did so much for knitting in the past, and then she moved on to other interests and wrote so many feminist books including The Skeptical Feminist. (I get frustrated sometimes when feminism gets mixed up with things that I consider to be foo-foo or woo, like crystal healing and such. I love Barbara Walker's approach to these topics.) I never felt much of a need to become part of a skeptical or non-believer community until after 9/11, when it became impossible to ignore the fact that religious extremists were getting more and more powerful both in the United States and around the world. I felt that I needed to take a stand and to "come out" so to speak as an unbeliever and to speak out in support of logic and reason in a world that seemed to be going completely insane.
I write regularly on
Skepchick
and I am working on a book about my experiences being a fundamentalist Christian in my teens and twenties and my own spiritual journey from there to my current place of unbelief.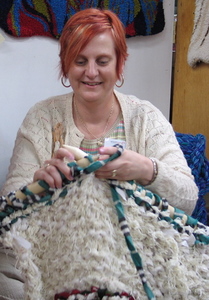 [MM]: I have to ask you about your bio picture. How on earth did you manage to knit with such giant needles? Did they make your hands ache? And what sort of yarn was that?
[DD]: Those are needles used to knit rugs made from 20 strands of yarn held together or thick strips of fabric. They are not uncomfortable at all. However, to use them, you have to sit on the floor and you don't move the needles to make the stitches. You move the yarn instead. You have to go slowly, and you can only make a few stitches a minute. But at a gauge of approx 2 inches = 1 stitch, the knitting still goes quickly!
[MM]: Well, I sincerely appreciate your taking the time to answer my questions. Is there anything else you would want people to know about Ethnic Knitting Discovery?
[DD]: Thanks so much for having me on the blog! I just hope that everyone comes to gain some appreciation of knitting techniques from around the world and to see how they can build on these techniques to create contemporary and modern designs as well as traditional garments. In a way, using these old techniques honors all of the anonymous women who came before us, and is a reminder of their stories that have been lost to history.
[MM]: Best of luck with your book!
[DD]: Thank you. Each book is a new and exciting journey.
Share this post