Winters in Oregon are gray and rainy and I love them. They are downright tropical compared to the bitter winters of my childhood in New Hampshire, yet cozier and more knitting friendly than the mild winters of Los Angeles. But I'll admit, I need a little brightness after weeks of dark skies and short days and I find myself drawn to beautifully dyed yarns as an antidote. I picked up a couple of skeins of Madalinetosh sock yarn in a shocking yellow-green that I'd normally pass over during the more colorful months, but which suited my mood so well in the gloom. In no time, I had my newest design, Blustery, a hat and cowl offered together or at a discounted rate as a set.

Find out more here and on Ravelry.
If you are interested in this, or any of the other patterns I sell in my ravelry store, I'm offering a coupon code good through the end of the year for 10% off of all your purchases. Use this code as many times as you like both for purchases for yourself and gift purchases for other knitters.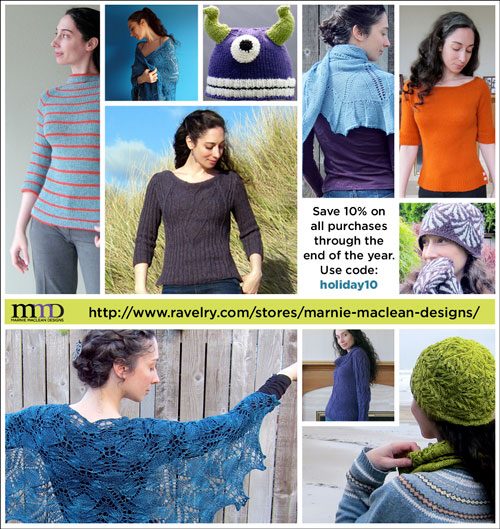 Make sure you use the coupon code option before you check out.


And, of course, if you have any problems with the code or any questions about the patterns, don't hesitate to let me know.
Share this post