I'm almost reluctant to post this
I'm back to trying to design a shawl with my handspun, and once again, I'm starting from scratch with a new design and new yarn.
For those of you who visit regularly, you are probably well aware of my current fascination with my Autumn Spice Cotswold from Nistock Farms. It will then come as no surprise that I want to actually knit what I've spun.
This is what I have so far.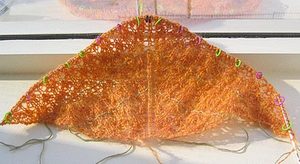 I like it. So why am I reluctant to post this? Because I'm a bit worried it will go awry, as my previous attempts at a shawl have. I'm not terribly fond of repetitive knitting. I'd much rather work something with an intricate stitch pattern or lots of shaping, than something that's very repetitive. I can manage a scarf or sock, here and there, but it's hard for me to keep my interest. So will this piece ever be anything more than a glimmer in my eye? Time will tell.
Even more questionable, though, is whether or not I'll ever spin enough of the roving with my spindle to have a shawl large enough cover my shoulders. I suspect I'll need quite a bit once my rows get a bit longer.
More spicy goodness, after the bump