He's done good
My brother and his girlfriend are in town visiting. We haven't seen too much of each other because of scheduling conflicts, but we've seen enough to swap gifts. Matt got some Hooray For Me Gloves and Jess got the Dragon Hoodie for her little girl.
But they came bearing gifts for us. So sweet. Jess brought us a huge basket of gourmet yummies, many of which Leo and I have already consumed, partially or fully. She even brought Miss Panda some cookies. And Matt, a man who referred to my knitting as "sewing" at one point, got me this.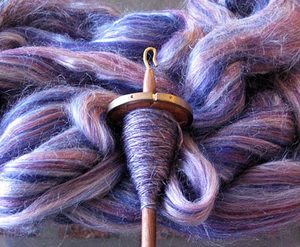 It's about 11 oz of beautiful purple merino/silk roving. It's soft as a bunny a stunning color. The image isn't a perfect representation, the color is really a pretty deep purple with shades of burgundy, lilac and everything in between. He got the roving from Shuttles Spindles and Skeins in Boulder Colorado. I love it. It's so sweet that he walked into a fiber shop, looked for the perfect roving and came back with something so great.
That spindle shows what I've spun this morning. It's working up very nicely. The color becomes richer and the various other shades sparkle through.