First carved pumpkin
Leo has never carved a pumpkin or had roasted pumpkin seeds before. Who knew? So last night, I sketched out a design and Leo used his brawn and patience to produce this: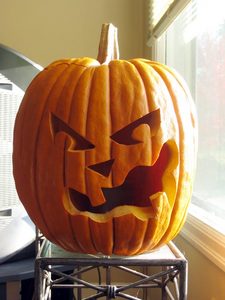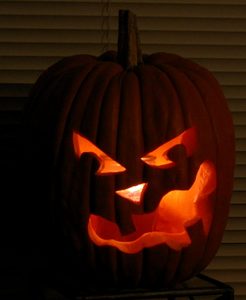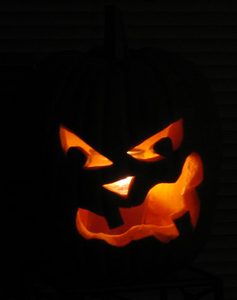 Isn't he great?
And the pumpkin seeds? That's my department.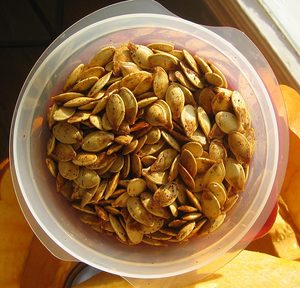 Roasted in a little butter and olive oils with salt, pepper and onion powder.
Meanwhile, I've been doing a little spinning. I haven't mentioned much about it recently, partly because El Matchador and I have had a couple ugly moment recently. There were some tension issues.
Let's be honest, these issues were my fault and I'm a big enough person to admit it. Wheels just weren't meant to spin with a mercerized cotton drive band. When I switched to a synthetic one that I had picked up a few weeks ago, it was as though the heavens opened up and angels began to sing. Another "oh duh!" moment for Marnie.
I haven't even calculated how much yardage I have here but it's a Merino/Tencel blend in a colorway called Sandstone. I bought it at Carolina Homespun, while on my road trip to Oregon. It's relatively fine, maybe a sport weight overall.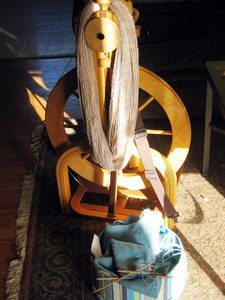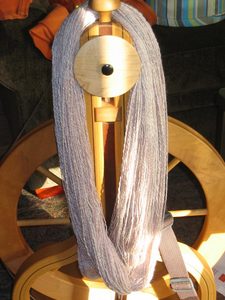 And here it is with my unblogable work, basking in a sun beam with Panda.